Whether you're after a relaxing soak, or somewhere to wind down after a hard day of biking or skiing, visiting the Omarama hot tubs is a must. These pools are a favourite for us when in the Mackenzie region as they are such a peaceful and relaxing spot to unwind.
Article Contents
---
Soak in the Omarama Hot Tubs
Upon arrival, you will be taken down a meandering path through the tussock grasses to your secluded hot tub. Each tub has its own landscaped site, set on the edge of a small lake with views of the surrounding Mackenzie country mountains. There are private changing rooms and showers by your tub. You will be provided fresh water and drinking glasses (you can also bring your own drinks to enjoy!).
The hot pools are filled with pure mountain water from the surrounding hills and mountains. Each hot tub is heated by fire, and you can adjust the temperature to suit. Stoke the fire for more heat, or run the cold tap to cool it down. 
Sit back, relax and indulge in the peaceful surroundings of the mountains by day or the night sky littered with stars. Share the stories from your day's adventure and soak in the glorious scenery. 
What to know about visiting the Omarama Hot Tubs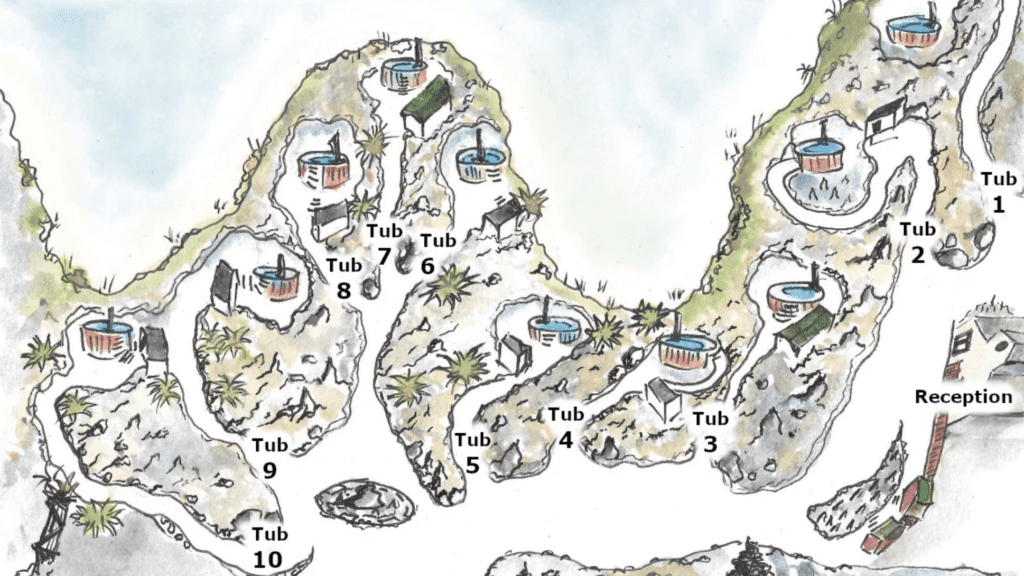 Location: Hot Tubs Omarama, 29 Omarama Ave, New Zealand Main Omarama Twizel Highway (State HWY 8)
Cost: From $40 per person.
The Omarama hot tubs are open daily from 11am – 6:30pm Sunday to Thursday, and 11am – 8:30pm Friday and Saturday.
Children are welcome.
Bookings are recommended for the Hot Tubs.
---
How to get to Omarama
By Bus
You can get to Omarama via bus from any major town in the South Island including Christchurch and Queenstown. The best option is Intercity which is the main bus trip provider in New Zealand.
By Car
Travelling by car gives you more freedom to move around the Mackenzie region as you please. If you need to rent a car there are a few good options.
Jucy Rentals – budget car options + small campervans
Snap Rentals – available in Christchurch, Queenstown, Auckland
Ace Rentals – Christchurch, Dunedin, Greymouth, Picton, Wellington, Auckland
Omarama Accommodation
Budget Options:
Location: Omarama
The Omarama Top10 Holiday Park is a great low-cost option to stay in Omarama. It has a range of accommodation options from campground sites to fully self-contained apartments. This accommodation is a 5 min walk from the Omarama Hot Tubs and 150m from the town centre.
It is a great family option with a Childrens playground and trampoline. Relax outside in the garden patio or have a BBQ while you enjoy the views of the surrounding mountains. 
Mid-range couples/families accommodation:
Location: Omarama
BigSky Motels is located 600m from Omarama town centre and has stunning views of the surrounding mountains. There is a range of accommodation options from Twin rooms through to Apartments. This near-new Motel is off the main road so it is very quiet. All rooms have cooking facilities, and the Motel also offers bike storage and e-bike charging.
Luxury Accommodation:
Location: Ahuriri Valley (33km south of Omarama)
For the most luxurious experience south of Omarama (and adventure) stay at The Lindis lodge. Located in the Ahuriri Valley, The Lindis offers premier high country accommodation. The master suites, lodge suites, and pods offer relaxing bliss, appointed to the standard you would expect from a 5-star lodge – with views to die for across the Ahuriri Valley, premium white linens, stunning furnishings, and a private outdoor bath.
The Lindis lodge offers the finest cuisine with ingredients sourced from onsite gardens and local suppliers, making for a stunning and uniquely New Zealand dining experience.
Guests can experience many adventures in the surrounding environment from fishing in the Ahuriri River, Heli tours, horse trekking around the Ben Avon Station, or stargazing amongst the remote mountains.
Are you planning a trip throughout New Zealand?
Check out some of our favourite articles below.