Lake Tekapo is one of the picturesque lake towns of the South Island. With its one-of-a-kind views along the lake to Mt Cook and close proximity to many outdoor activities is a place to put on your list to visit.
Step into this Alpine playground and discover the turquoise blue lakes, spectacular snowy peaked mountains, and glorious night skies. Whether you have one day or one week in Tekapo, there's something for everyone – hot pools, mountain hikes, or nighttime stargazing.
Article Contents
---
Things to do in Tekapo
Lake Tekapo is a region loved by adventurers and families alike for its range of outdoor activities in both summer and winter. Here is a list of our top things to do in Tekapo for the adrenaline junkies and outdoor explorers.
1. Take a plunge in the Tekapo Springs
Take the plunge at Tekapo Springs hot pools with three pools filled from an amazingly pure underground source. Surrounded by mountains and pine trees with views over Lake Tekapo, the setting is serene. Pool temperatures range from 36.5 to 38.5 degrees celsius. This is a great family spot with pools suited to all ages from the Aqua play area to the Adults only pool. Leave your worries behind as you sit back, relax and drift away in this alpine oasis.
(As an added bonus, during winter, there is an ice skating rink and snow tubing track).
How to do it:
Location: Tekapo Springs, 6 Lakeside Drive, Lake Tekapo 7999
Cost: Children from $19, Adults from $33. Book your Hot Swim here

2. Go Stargazing
The Mackenzie country is part of the Aoraki Mackenzie International dark sky reserve. On a clear night, you will experience some of the clearest skies in the world, meaning you're in the best place to see the spectacular Milky Way. Once you see it for yourself, you'll know why they call it a jaw-dropping experience.
To get the best vantage point for stargazing, join a tour where you'll be taken to an exclusive viewing spot, learn about the southern hemisphere stars, and use the telescopes to see the stars and planets up close. You'll get a blanket and hot chocolate to lie under the stars with. This is my favourite way to spend an evening in Tekapo.
How to do it:
Location: Chameleon Star Gazing, 68 Andrew Don Drive, Lake Tekapo 7999
Cost: From $60. Book your stargazing journey here.
3. Ski at Roundhill Ski Area
Roundhill ski area is a terrific family-run ski field, and if you're after a cruisy day riding this is for you!
The terrain has a mild contour, with two t-bar lifts. Most of the runs are intermediate, with a few advanced options that make for the most enjoyable skiing where you can carve out big turns with not a care in the world. There is also a beginners area with a platter for those learning.
Make sure you stop by Von Browns hut, a small drinks bar with outdoor seating and fur rugs. Grab a drink, lounge in chairs, and enjoy the views across the river to Mt Cook.
How to do it:
Location: Round Hill Ski Area, 2544 Lilybank Road, Tekapo 7999
Cost: Adults full day pass $99, Child full day pass $48

4. Go Ice Skating
Springs Ice Skating rink. This is a fun experience to do as a family or couple. Immerse yourself in the atmosphere with stunning views across Lake Tekapo and open fires beside the rink to warm up if you get cold. Your ticket price includes all-day entry, ice skates, and helmets, so come and go as you please throughout the day. The ice rink is open from May to September.
How to do it:
Location: Tekapo Springs, 6 Lakeside Drive, Lake Tekapo 7999
Cost: Children $16, Adults $20. Book your Ice Skating Tickets.
5. Have a picnic at Lake Alexandrina
Lake Alexandrina is a secluded spot and considered a secret local spot. It is located 13km from Tekapo and is a stunning spot to head to for a picnic. Park at the end of the road and then take a walk along the lakeside track. Find a cosy spot off the track by the lake's edge for lunch and enjoy the serene and beautiful setting. Be sure to walk to the nearby hill for a breathtaking view across the lake. On a clear sunny day you'll get great photos of the surrounding mountains reflecting in the water.
How to do it:
Location: Lake Alexandrina, Lake Alexandrina Road, Tekapo, 799, New Zealand
Cost: Free.
6. Go Fishing
Have you ever dreamt about catching one of those massive Trout you see on social media? If yes, then you're in the right spot! The Mackenzie Country and Tekapo have some of the best freshwater fishing in New Zealand with massive Trout up to 15kg caught in the area. The mass of the Southern Alps means there is plenty of glacial water flowing down to the nearby rivers and canals and acts as a terrific home for healthy Trout and Salmon colonies.
If you have your own fishing gear, find a spot beside one of the nearby canals, rivers, or lakes and throw your line in, just be sure to follow the local fishing rules and limits. Alternatively, if you want to skip the learning, you can join a guided fishing trip where your guide will take you to the spots which are fishing well at that time, provide you with the necessary gear and teach you how to angle for these fish. Enjoy the peacefulness of being out by the water, surrounded by towering mountains as you wait for your fish.
How to do it:
Location: Tekapo Fish Bowl, Te Araroa Trail, Tekapo, 7999, New Zealand
As the name suggests, this is a popular fishing spot. Park up by the main lake and choose a spot by the lake edge, or you can drive further down the road and fish on one of the canals instead.
Cost: Do it yourself – $22 Fishing Licence. Guided tours from $500. Book a guided fishing trip here.

7. Walk the Mount John Summit Track
If you're after a jaw-dropping 360 views across the Lake Tekapo basin, Lake McGregor, and Lake Alexandrina then the Mt John walk is for you.
Mount John is one of the well-known mountains surrounding Lake Tekapo. The walking track rises through the native forest and opens up onto alpine tussock hills to the stunning viewing platform. There are two walking track options to get to the breathtaking summit:
1. Mt John Circuit track (approximately 1.5 hrs).
2. Mt John lakeshore walkway (approximately 3 hrs).
We prefer the longer track as it allows you to take in the glorious scenery the region has to offer.
How to do it:
Location: Mt John Summit track, Tekapo, 7999, New Zealand.
The start of this track is located next to the Tekapo Springs complex. You will see a DOC sign on the left marking the start of the track. Begin the track by walking up the hill. Once at the summit, you have the choice of returning the same way you came up or taking the lakeshore track home (this is well marked from the summit).
Cost: Free
8. Ski at Mt Dobson Ski Field
Visit "Dobo" to get a taste of laid-back kiwi hospitality. Mt Dobson is one of the South Island's best-kept secrets and offers a great variety of skiing and boarding a 1 hr drive from Tekapo. Its wide basin provides many wide open runs suitable to intermediate skiers and it is a lot of fun for the more advanced skiers and boarders to lean in for some big carving turns. There is also a beginners area with its own platter, making it a great family field.
Being a smaller ski area, it doesn't get the same crowds as the larger commercial fields, so it's a great spot to be on a powder day!
How to do it:
Location: Mount Dobson, 1274 Fairlie-Tekapo Road, Burkes Pass 7987, New Zealand
Cost: Adults full day pass $98, Childs full day pass $45
9. Take a scenic flight to Mt Cook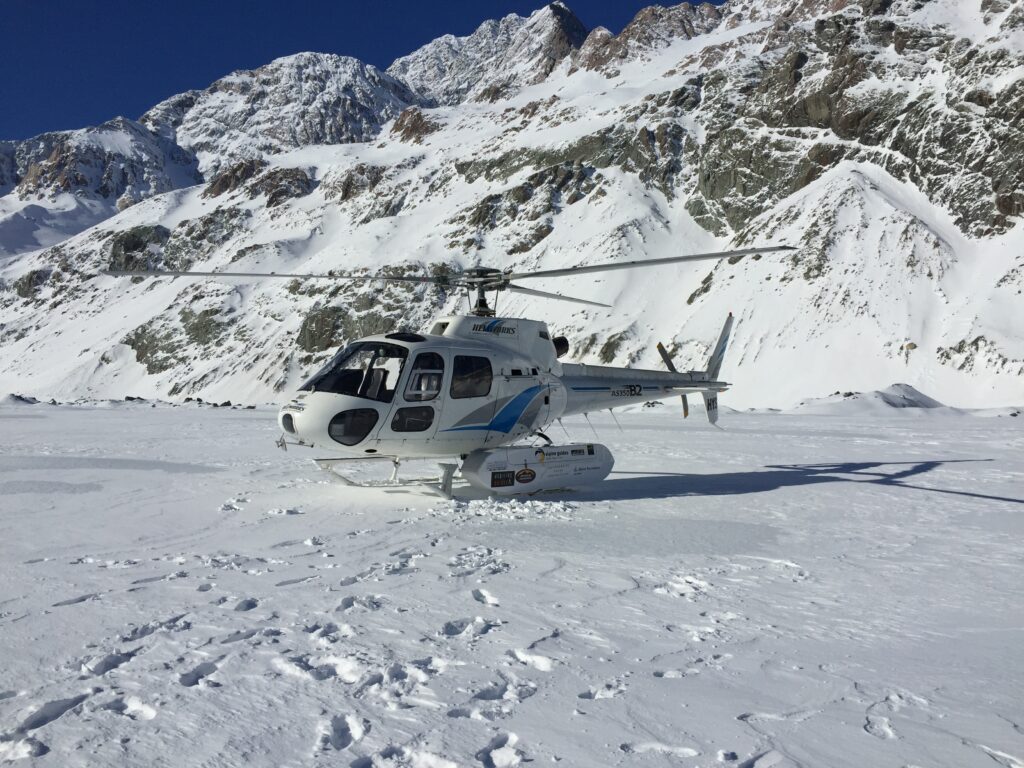 The views of Mt Cook from Lake Tekapo are stunning, but the views of Mt Cook from up close are even better! If you're in Lake Tekapo on a clear day, I'd highly recommend taking a scenic flight to New Zealand's tallest mountain – Mt Cook. Enjoy the sights as you fly across Lake Tekapo and across the schist-covered rivers before you start to rise up into the mighty Southern Alps.
Your pilot will land on the Tasman glacier where you'll get up close, uninterrupted views of Aoraki Mount Cook, and experience what it's like to stand on New Zealand's longest glacier. Being surrounded by these towering mountains is a surreal experience with spectacular views. You won't be able to wipe the smile off your face after this is an unforgettable experience.
How to do it:
Location: Red Cat Biplane Flights, 1 Harry Wigley Drive, Pukaki Airport, Twizel 7901
Cost: Adults $550, Children $450. Book your scenic flight.
10. Go on a 4WD adventure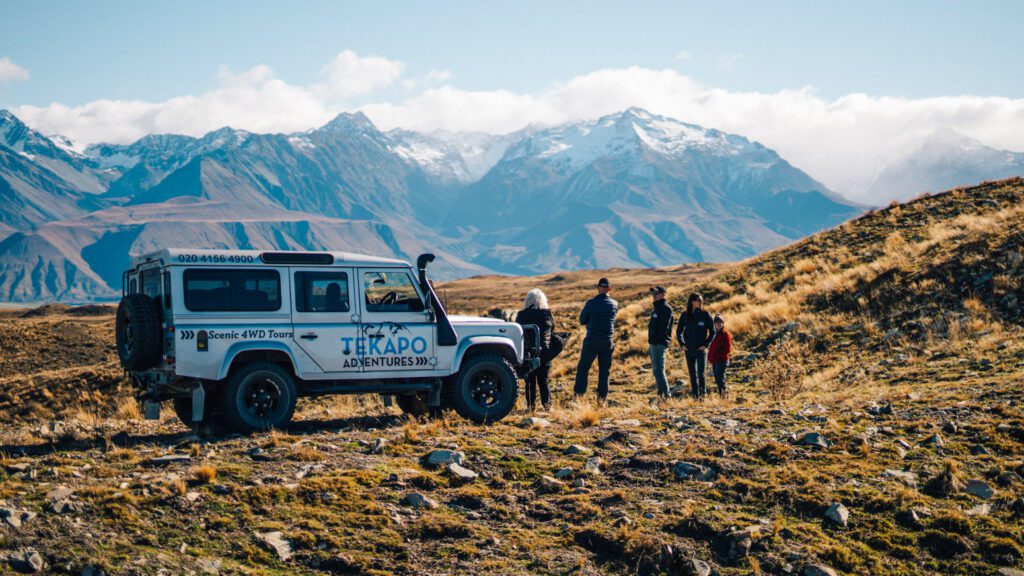 Want to explore the south island off the beaten track? Theres no better way to do it than by 4wd. Roam the backcountry of Twizel and the surrounding regions to see the remarkable natural landscapes.
You can explore the many public tracks in your own private vehicle or take a guided trip to tour private land. Either option provides a great opportunity to go off the grid and immerse yourself in nature. If you want to do a multi-day trip pack a tent and visit some of the nearby doc huts.
How to do it:
Do it yourself – see DOC website for public tracks
Cost: Free
Guided trip – Tasman Valley 4WD Adventures
Cost: From $119 for 1.5hrs
---
How to get to Tekapo
By Bus
You can get to Tekapo via bus from any major town in the South Island including Christchurch and Queenstown. The best option is Intercity, which is the main bus provider in New Zealand.
By Car
Traveling by car gives you more freedom to move around the Mackenzie region as you please. If you need to rent a car there are a few good options.
Jucy Rentals – budget car options + small campervans
Snap Rentals – available in Christchurch, Queenstown, Auckland
Ace Rentals – Christchurch, Dunedin, Greymouth, Picton, Wellington, Auckland
Tekapo Accommodation
Budget Accommodation:
Location: Tekapo
As the name says, the Lakefront Lodge Backpackers is situated on the Lakefront of Lake Tekapo making it a beautiful spot. The hostel is in a peaceful location with a well-equipped, spacious commercial-style kitchen for guests can use to cook their own meals. There is a range of room options ranging from shared dormitory rooms to private double rooms with shared bathrooms. A free shuttle service is available to and from Lake Tekapo bus terminal.
Mid-range accommodation:
Lake Tekapo Motel & Holiday Park
Location: Tekapo
The Lake Tekapo Motel and Holiday Park is located on the shores of Lake Tekapo. A variety of accommodation options from campsites and cabins to larger houses and a motel are available. All sites/rooms get a view out to the Lake and surrounding mountains. This Tekapo accommodation is less than 200m away from Tekapo Springs hot pools and ice skating rink making it a wonderful holiday spot for families.
Location: Tekapo
Situated up on the hill with striking views over Lake Tekapo, Peppers Bluewater Resort is one of the most well-known Tekapo accommodation providers. Situated just up the road from the main shops', everything Lake Tekapo has to offer is at your doorstep. A wide variety of accommodation is available, from one-bedroom studio apartments to three-bedroom villas.
Luxury Accommodation:
Location: Tekapo
Stay at one of Lake Tekapo's most luxurious lodges. Located on the edge of Lake Tekapo, Antler Lodge is a private holiday home that you have exclusive use of. Whether it's a couple's weekend getaway or a family holiday, Antler lodge has everything you need. Appointed to the standard you would expect from a 5-star lodge – with views to die for and stunning furnishings.
Guests can enjoy many activities a short walk from the property including fishing, bike riding, swimming, or a walk around the lakeside. This house can sleep up to 10 guests making it a great option for up to two families.
Are you planning a trip throughout the Mackenzie Country?
Check out some of our favorite articles below.