Twizel is a small Kiwi town, originally built purely to home the workers of the upper waitaki hydroelectric scheme. These days is has become a hub for adventurers and explorers alike, being a central location to some of the best parts of the South Island including Mt Cook, Lake Pukaki and the Lindis Pass.
Step into this Alpine playground and discover the serene rivers, towering mountains, and breathtaking sunsets. Whether you have one day or one week in Twizel, there's a diverse range of sporting, leisure and adventure activities at your fingertips.
Article Contents
---
Things to do in Twizel
Twizel is a popular spot for explorers and families alike for its variety of outdoor activities in both summer and winter. Here is a list of our top things to do in Twizel for the adrenaline junkies and outdoor explorers.
1. Go Stargazing
Have you dreamt of being able to see stars as clear and bright as those pictures you see on social media? Well your in luck because Twizel is part of the Aoraki Mackenzie International dark sky reserve meaning you can see the stunning, clear, bright stars and milky way with your naked eye.
Stargazing is one of my favourite things to do during our annual trip to Twizel. Standing under the stars is mesmerizing. At times the Southern Lights can also be visible from Twizel.
How to do it:
Simply step outside your door on a clear night and stare up at the night sky.
2. Have a picnic at Lake Pukaki
Lake Pukaki, being the catchment for all glacial waters that flow down from Mt Cook and the surrounding valleys, holds the most spectacular glacial blue water. This matched with the surrounding bold and jagged stretch of mountains known as the Southern Alps makes for the most breathtaking and arguably most beautiful lake in New Zealand (if not the world!). At the end of the lake lies Mt Cook. On a clear day you'll see its shimmering reflection in the lake.
Lake Pukaki is located 7km from Twizel and 48km from Tekapo and is a stunning spot to head to for a picnic. There are a few viewing spots around the lake's edge, which you'll see as you drive around the lake. Find a spot at one of the picnic tables or take a picnic blanket and go down to the lake's edge for lunch while you enjoy the views of the lake.
How to do it:
Location: Lake Pukaki View Point, Hayman Road, Pukaki 7999
Cost: Free.
3. Go Fishing
Ever thought about Trout fishing? Twizel has the best freshwater fishing in New Zealand. The 150km network of canals between Lake Tekapo, Lake Pukaki, Lake Ohau, and Lake Benmore feed the nearby hydropower station and is home to a healthy Trout colony. Trout weighing over 4.5kg are common, and recently Trout up to 15kg have been caught.
If you have your own fishing gear, head down to one of the nearby canals and throw your line in, just make sure you follow the local fishing rules and catch limits. Alternatively, go on a guided fishing trip where you'll be taken to the most successful fishing spots and taught how to fish for Trout.
Enjoy the peacefulness of fishing on a glacial canal surrounded by the southern alps and watch the odd fish surface on the water.
How to do it:
Location: Corner of Glen Lyon Road, Ben Ohau, Twizel, New Zealand
Park in the gravel by the corner and head down to the water's edge, all the roads around here on the edge of the canal are good fishing spots.
Cost: Do it yourself – $22 Fishing Licence. Guided tours from $500. Book here.

4. Feed the Salmon
If fishing is not for you, how about feeding the Salmon? Head along to High Country Salmon farm just outside of Twizel where you can feed the Salmon for free. It's a fun experience where you'll walk out on the floating pontoons to one of the fish pens. Throw the fish food in and watch all the Salmon splash to the surface to grab the food.
This is also a cafe where you can grab a bite to eat or buy fresh Salmon which tastes amazing!
How to do it:
Location: High Country Salmon, 2602 Twizel-Omarama Road, Glenbrook 7999
Cost: Free
5. Skydive above the Southern Alps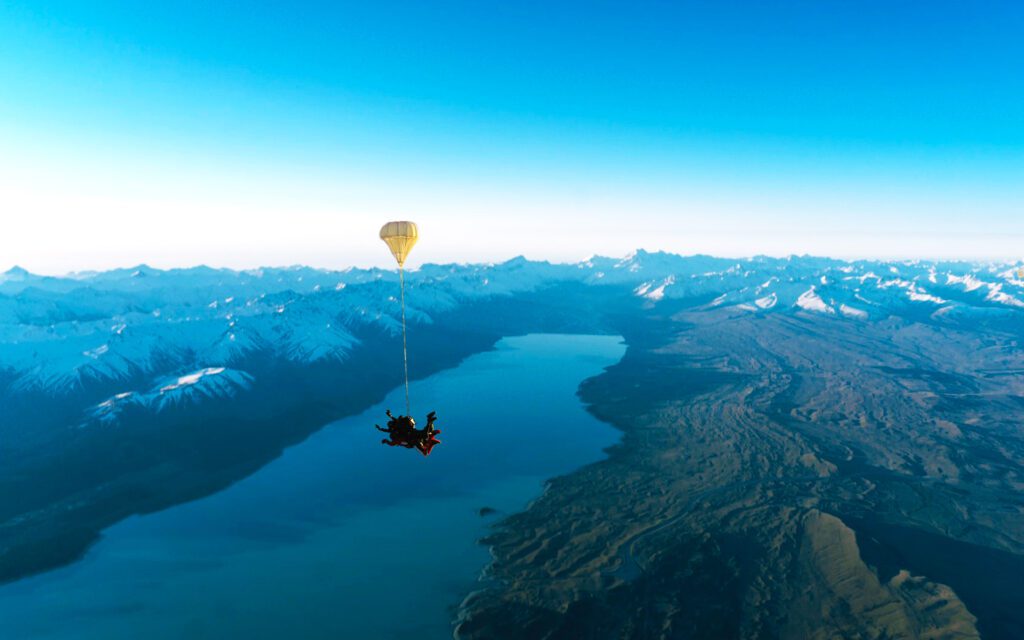 Imagine the adrenaline rush you get from free falling for 60 seconds above the most spectacular alpine scenery in New Zealand. This is exactly what it's like to skydive in the Mackenzie Country.
You'll be kitted up with your jumpsuit and safety goggles before being briefed and then strapped to your jump master, an experienced skydiver. Enjoy the flight up as you navigate the stunning scenery before jumping out. Let the thrill of the free fall kick in as the wind rushes past your face. Once your parachute opens you can soak in the rest of the views as you drift gracefully to your landing.
How to do it:
Location: Skydive Mt Cook, 2 swallow Drive Pukaki Airport Pukaki, Twizel 7999
Cost: From $225. Book here.

6. Bike around Lake Ohau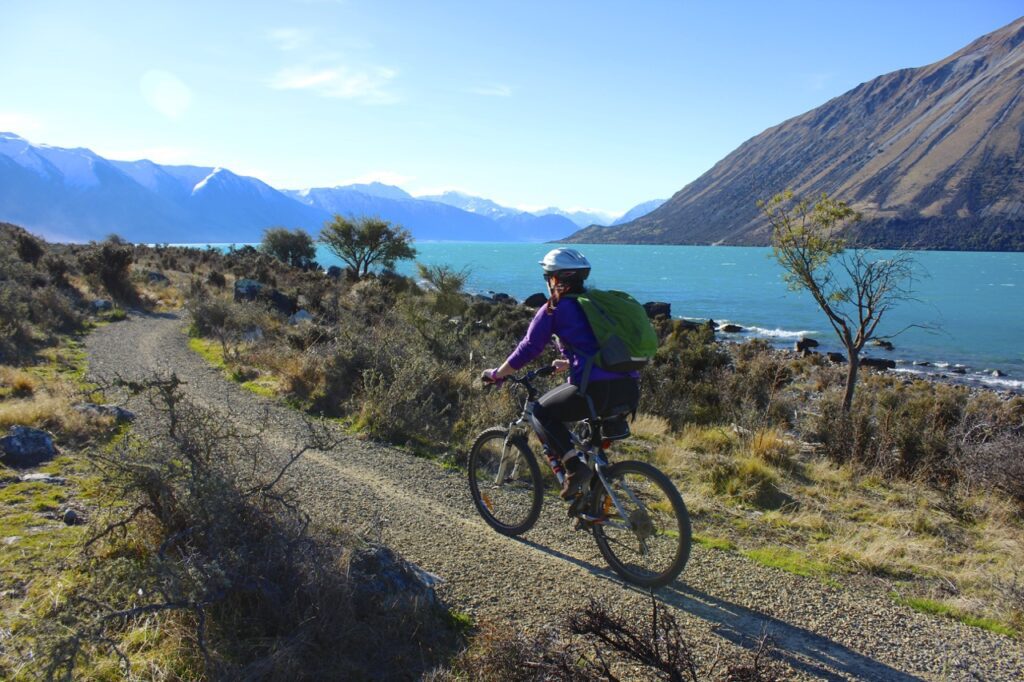 Exploring Lake Ohau by bike is a spectacular way to get up close and personal with the Ben Ohau Range and the stunning Lake Ohau glacial waters. The Mackenzie country is part of the Alps to Ocean bike track, however, rather than doing the whole track you can pick small sections of it to do.
The track from Twizel through to Ohau lodge is an easy trail (grade 2). The track meanders along the edge of Lake Ohau, through native scrub and past a few old tramping huts. Starting from the Ohau weir, the track is 29km long. At the end, reward yourself with a drink or meal at the Ohau lodge. Make sure you carry a tyre repair kit so you don't have to walk your bike all the way back to the car as we did…!
How to do it:
Location: Drive to the Lake Ohau Track which has a car park at the beginning. From here you'll find a bike track. Follow this for 29km along the lake edge through to Ohau lodge.
Cost:
7. Ski at Ohau Ski Field
The Lake Ohau region is home to Ohau ski field, a small family-owned ski field. If you're looking for a genuine, laid-back Kiwi skiing experience, with welcoming staff and one-of-a-kind views, then look no further. Ohau ski field has one main chairlift that provides access to the whole basin, as well as a beginners area with a platter.
Pick between the intermediate groomed runs, advanced steep pitches, or head out wide for an unreal off-piste experience. If you're feeling energetic, a hike to the peak (above the chairlift) is well worth it for the extended views across the radiant MacKenzie country, overlooking Lake Ohau, the Ben Ohau Range, and the surrounding rivers.
How to do it
Location: Ohau Ski Field, ​​Lake Ōhau 9412
Cost: Adults full day pass $119, Child full day pass $49
8. Take a flight in a Biplane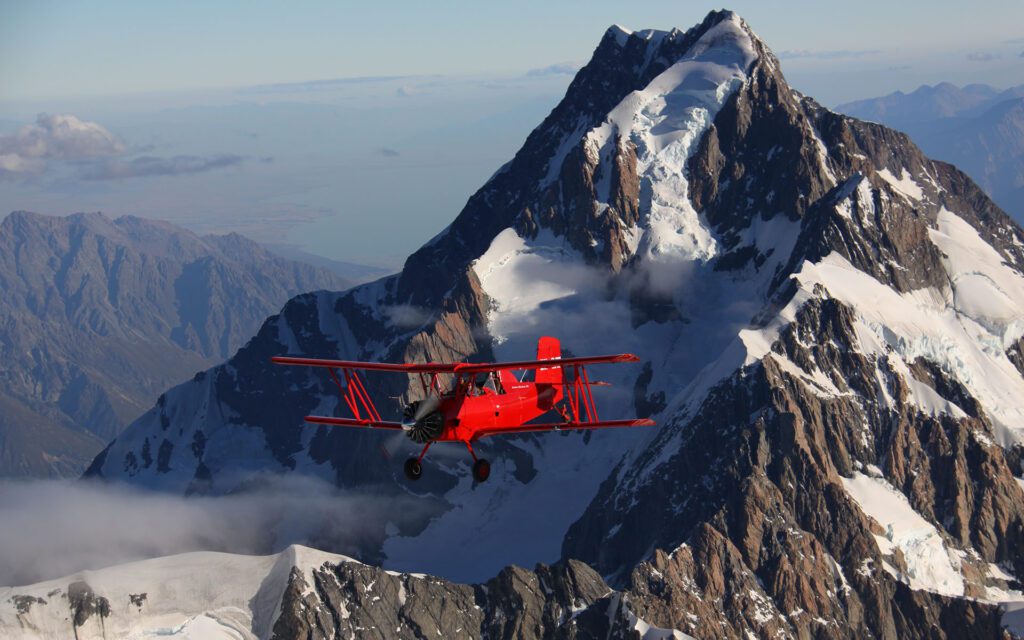 Ever wondered what it's like flying in a bi-plane? I can tell you it's thrilling, but why not find out for yourself. Twizel is one of the few locations in New Zealand where you can experience flying in an open cockpit biplane with Red Cat Biplane Flights.
You'll be kitted out with a leather jacket and helmet to look the part. Jump into the plane with your pilot and explore the Mackenzie country and its rugged mountains by sky. You won't be able to wipe the grin off your face.
Flights run regularly from September to the end of April. Outside of this please call to arrange a flight.
How to do it:
Location: Red Cat Biplane Flights, 1 Harry Wigley Drive, Pukaki Airport, Twizel 7901
Cost: $295 per person. Book here.

---
How to get to Twizel
By Bus
You can get to Twizel via bus from major towns in the South Island including Christchurch and Queenstown. The best option is Intercity which is the main bus trip provider in New Zealand.
To get between Twizel and Mt Cook you can also use Cook Connection which specialise in short-haul trips in the Mackenzie region.
By Car
Travelling by car gives you more freedom to move around Twizel and surrounding regions as you please. If you need to rent a car there are a few good options.
Twizel Accommodation
Budget Accommodation:
Location: Twizel
The Lake Ruataniwha Holiday park is a great low cost option to stay in Twizel with a range of accommodation options from campground sites through to fully self contained cabins. It is situated beside lake Ruataniwha and has gorgeous views to the surrounding mountains. There is a store onsite with basic supplies, or to grab an ice cream on a hot day!
Mid-range Couples/Family Accommodation: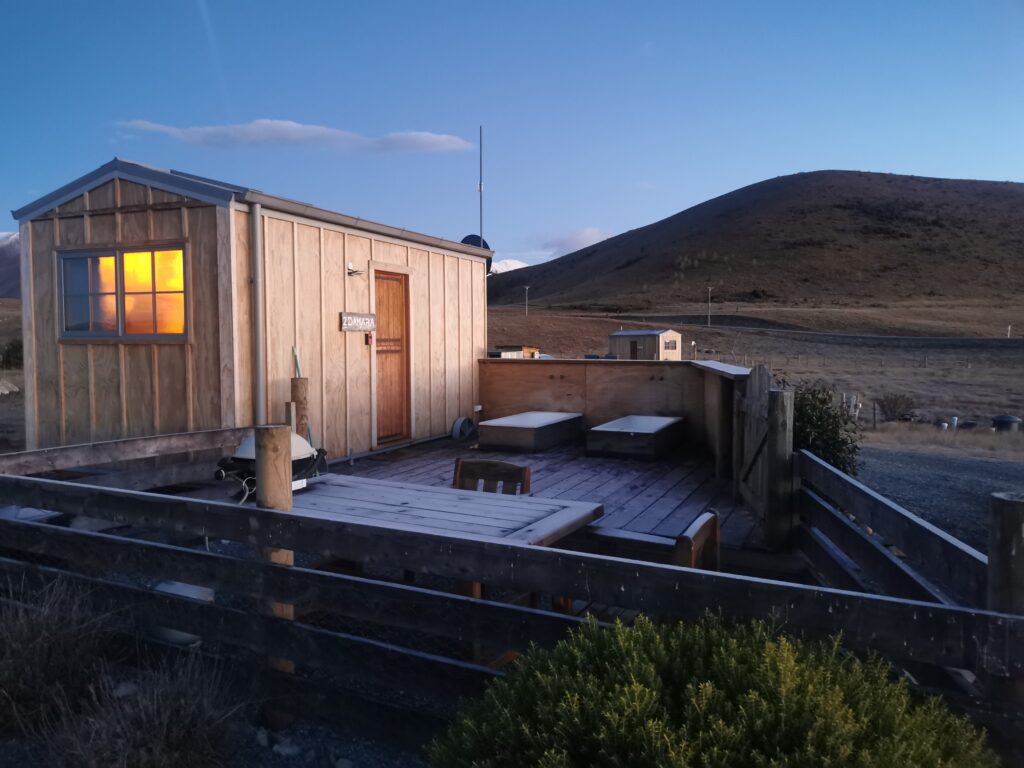 Location: Twizel
Highland farm stay is a cute spot. This is a lifestyle property run by a family who have placed small cabins around their property. The best part about these cabins is the outdoor bath tubs. Fill up your hot bath at night, add some bubbles and then enjoy a night under the stars stargazing. This is a truly magical experience. These cabins are fully self sufficient with a bathroom and kitchen. Above the bed there is a skylight to continue your stargazing. The added personal touch of fresh eggs and milk from the farm is the icing on the cake. If you have enough time, you are also able to feed the farm animals on the site.
Luxury Accommodation:
Location: Twizel
Have you dreamt of sleeping under the stars, in a room built of glass? Stay in one of the most glorious spots in the Aoraki Mackenzie dark sky reserve and fall asleep under a blanket of stars. Located on the top of the Ben Ohau Range on a high country farm, SkyScape is one of the most exclusive spots in the region.
Your cabin is nestled amongst native scrub on this 6000 acre farm. Enjoy a hike across the land, take a tour of the farm or just relax in your private oasis.
Are you planning a trip throughout The Mackenzie Country?
Check out some of our favorite articles below.