If you're after a relaxing thermal soak that will transport you to paradise then visiting The Lost Spring in Whitianga is a must. These geothermal pools are truly remarkable, and certainly a hot pool experience you won't forget.
Article Contents
---
The Lost Spring Hot Pools
The Lost Springs Hot Pools is 4.5 hectares nestled amongst Whitianga suburbia, but you wouldn't know it. From the moment you enter the property you're greeted with Ukulele music and the birdsong of Tui and Kereru. This is just the beginning of the stunning tropical paradise that awaits you. The pools themselves are gorgeous, surrounded by native and tropical trees which encroach over the pools, making for a serene and relaxing setting.
The geothermal water in these pools comes from 642m underground and emerges after being underground for over 16,000. This thermal water has over 400 healing mineral properties and it is therefore recommended you do not shower after your swim, to allow the minerals to soak into your skin. 
Pools
The Lost Spring has three different pools which range from 32 to 41 degrees in temperature. As you enter the pool area you'll cross a swing bridge across the main pool. This pool has a poolside bar and several caves you can swim into, including the large amethyst cave. The main cave in this pool is truly spectacular and could be an attraction on its own.  This pool is the coolest of the three.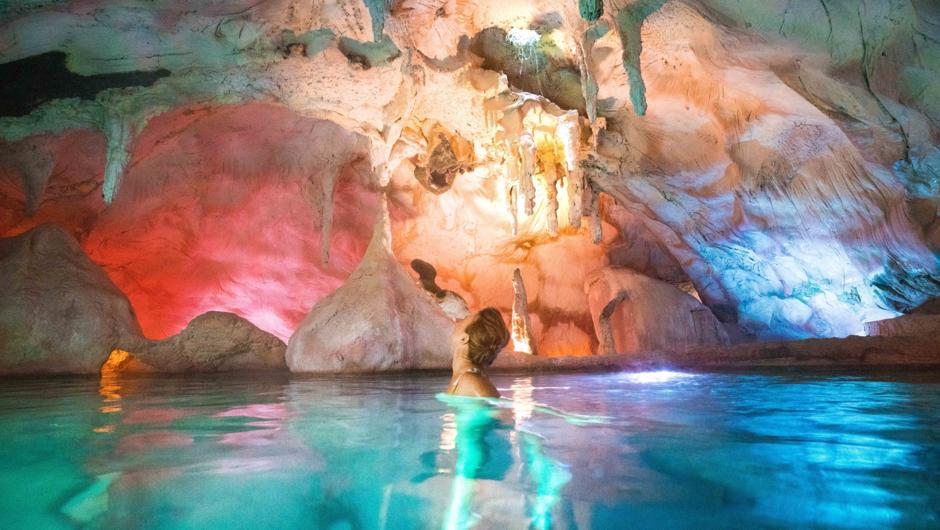 The second pool is a hot, shallow, bathing pool, attached to the main pool. Lie back in here and order cocktails, drinks, snacks, or full meals to the poolside from the restaurant.
The final pool is the hot lava pool, it gets its name for being shaped a bit like a volcano crater and for being very hot. This pool is accessible through the Amethyst cave. In the Lava pool there are many little nooks and crannies providing private areas for bathing.
You can choose from either a 1.5 hrs swim or 4hrs, however, you can easily spend a full day here as on site at The Lost Spring there is also a wonderful day spa and restaurant to meet your every desire.
What to know about visiting The Lost Springs
Location: The Lost Springs, 121A Cook Drive, Whitianga 3510
Cost: From $49 per person for 1.5 hrs or $85 for 4hrs
The Lost Springs is open Thursday to Saturday 9:30 am – 9:00 pm, and Sunday 9:30 am – 7:00 pm 
Children under 14 years of age are not permitted. 
Bookings are essential.

How to get to Whitianga
By Bus
You can get to Whitianga via bus from most major nearby towns including Auckland, Hamilton, and Tauranga. The best option is Intercity, which is the main bus trip provider in New Zealand.
By Car
Traveling by car is another great option as it lets you explore the beautiful Coromandel at your own pace. If you need to rent a car there are a few good options. 
Jucy Rentals – budget car options + small campervans
Snap Rentals – available in Christchurch, Queenstown, Auckland
Ace Rentals – Christchurch, Dunedin, Greymouth, Picton, Wellington, Auckland
Drive times to The Lost Spring:
Auckland to Whitianga: 2.5 hrs
Hamilton to Whitianga: 2.5 hrs
Tauranga to Whitianga: 2.5 hrs
Rotorua to Whitianga: 3 hrs
---
Whitianga Accommodation
Budget Options:
Location: Whitianga
The Harbourside Holiday Park is a great low-cost option to stay in Whitianga, with a range of accommodation options from campground sites to fully self-contained apartments. This accommodation is a 2 min drive from The Lost Springs and is 650m from the town centre.
This is a great family option with a playground and swimming pool. Relax outside by the BBQ while or walk across the road for a swim at the beach.
Mid-range couples/families accommodation:
Waterfront Apartments Whitianga
Location: Whitianga
Waterfront Apartments Whitianga is right across the road from the beach and 500m from Whitianga town centre. There is a range of accommodation options from ground-floor studio apartments to penthouse apartments with ocean views. Aside from the view, the best part about this accommodation is guests have their own private entrance to The Lost Spring pools.
Luxury Accommodation:
Sovereign Pier on the Waterways
Location: Whitianga
For 5-star accommodation in Whitianga, book a stay at Sovereign Pier on the Waterways. The apartments offer relaxing bliss with views over the Whitianga marina and wider Mercury Bay.
The Sovereign Pier on the Waterway is set on 2 hectares of landscaped grounds where guests can enjoy the use of the pool, hot tub, and tennis court.
This accommodation is a 4 min drive from The Lost Springs and a 3 min drive from the town centre.
Are you planning a trip throughout New Zealand?
Check out some of our favorite articles below.