Maruia Hot Springs is an absolutely stunning hot pool experience in one of the most remote and relaxing spots in New Zealand. We went here on our Honeymoon and it was the highlight of the trip. Set high amongst New Zealand's southern alps in the stunning sub-alpine environment, you'll feel relaxed in the sublime natural surroundings.
Article Contents
Maruia Hot Springs
Maruia Hot Springs is located in the remote Lewis Pass 2.5 hrs from Christchurch. Driving past the resort you would think this sanctuary didn't exist, but once you step through the gate to the pools you are transported to a magical paradise. The resort is an eco-resort and operates entirely off the grid. 
These pools overlook the Maruia river and are built from large rocks making it feel like you are in naturally formed hot pools. Being so high up in the mountains at times these pools are surrounded by snow and it makes for an even more stunning experience. 
Approximately 500,000 litres of fresh mineral water flows through the pools daily. The geothermal water in these pools emerges from deep below the Southern Alps after being underground for centuries. This thermal water has hundreds of healing mineral properties that help to detoxify your body. It is recommended you do not shower after your swim to allow the minerals to soak into your skin.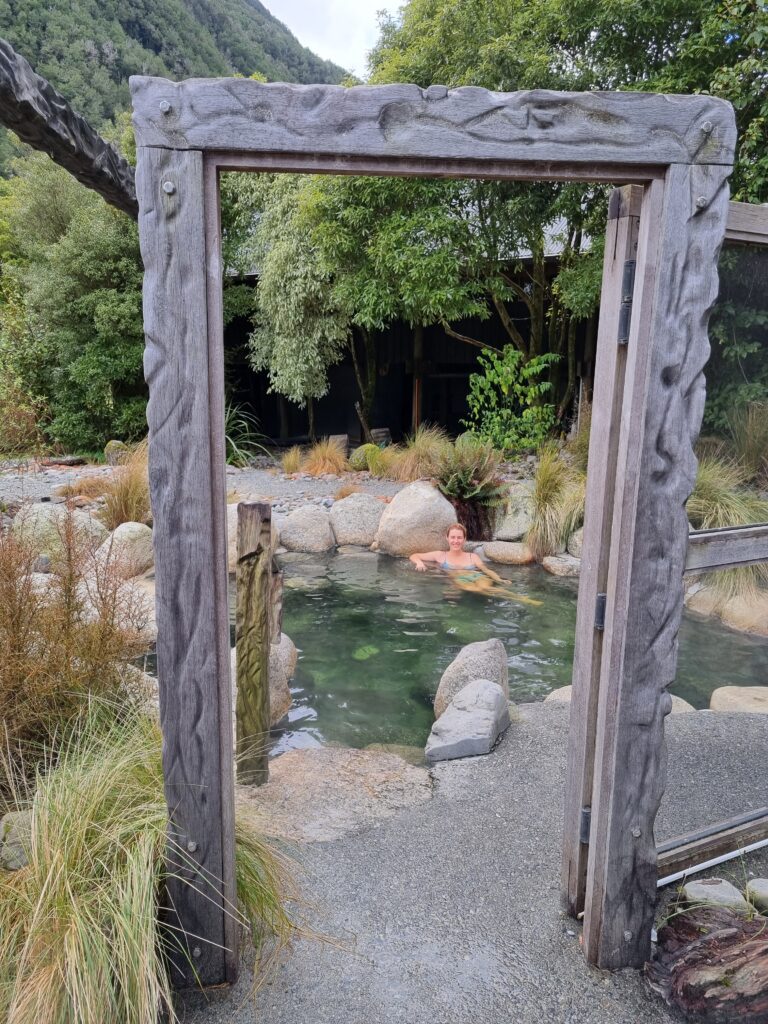 The resort has three different outdoor hot pools ranging from 37℃ to 42℃. In the outdoor area, there is also a sauna and a deep plunge pool which averages 12℃. It definitely takes your breath away (especially in winter), but it feels so great once you get out! Indoors there is another hot pool and yoga studio.
There are many different bathing options available from a 3 hr pass through to multi-day accommodation and dining packages which include 24hr access to the pools.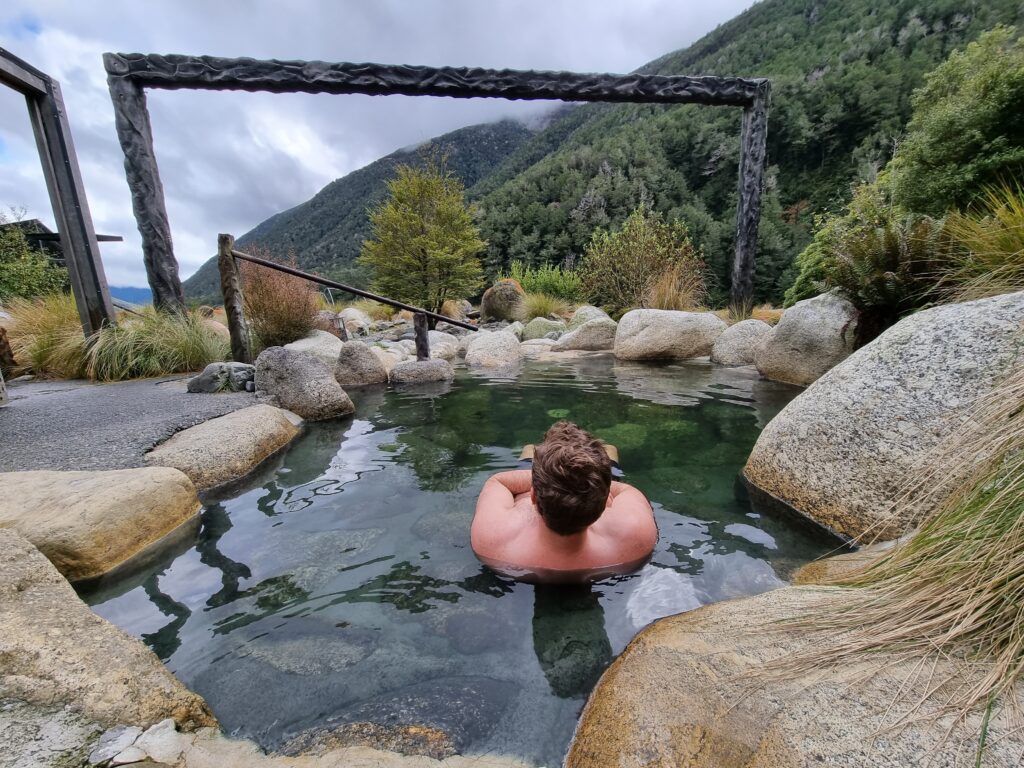 Activities
The resort has a focus on health and wellbeing and offers a scheduled timetable for visitors to partake in wellness activities such as yoga, detox sauna infusion, nature walks, and meditation. You can see the full weekly schedule here. Staff encourage guests to take part in as many or as few of these activities as they like at no extra cost. 
Restaurant
On-site there is a restaurant that offers dining for breakfast, lunch, and dinner. The resident chefs use fresh organic ingredients from local suppliers across New Zealand to create unique dishes inspired by the surrounding nature.
What to know about visiting Maruia Hot Springs
Location: Maruia Hot Springs, State Highway 7, Lewis Pass 7895, New Zealand
Cost: From $45 per person for 3hrs or $75 for a full day
The resort is open 5 nights a week from 8 am to 9 pm (closed Tuesdays at 11 am and reopen on Thursdays at 3 pm). 
Children are welcome.
Bookings are essential.
There is little to no phone reception here so check in advance and know where you are heading before your GPS stops working (wifi is available for purchase if required).
As the pools are very remote there are no nearby shops, bring with you everything you need for your stay. 
---
How to get to Maruia Hot Springs
By Car
Traveling by car is a great option as it lets you explore the beautiful Lewis pass at your own pace. If you need to rent a car there are a few good options.
Jucy Rentals – budget car options + small campervans
Snap Rentals – available in Christchurch, Queenstown, Auckland
Ace Rentals – Christchurch, Dunedin, Greymouth, Picton, Wellington, Auckland
Drive times to Maruia Hot Springs:
Christchurch to Maruia Hot Springs: 2 hrs 30 mins
Nelson to Maruia Hot Springs: 2hrs 40 mins
Kaikoura to Maruia Hot Springs: 2hrs 40 mins
Westport to Maruia Hot Springs: 1hr 50 mins
By Campervan
Due to its remoteness the Hot Springs are popular with those traveling by campervan. This means you plan to stop off and stay in other locations on your way. These are a few other good campervan hire comparison tools to find the best deal:
By Bus
There are currently no direct bus options to Maruia Springs.
Maruia Hot Springs Accommodation
The only accommodation near Maruia Hot Springs is at the resort itself. There are several options here.
Camping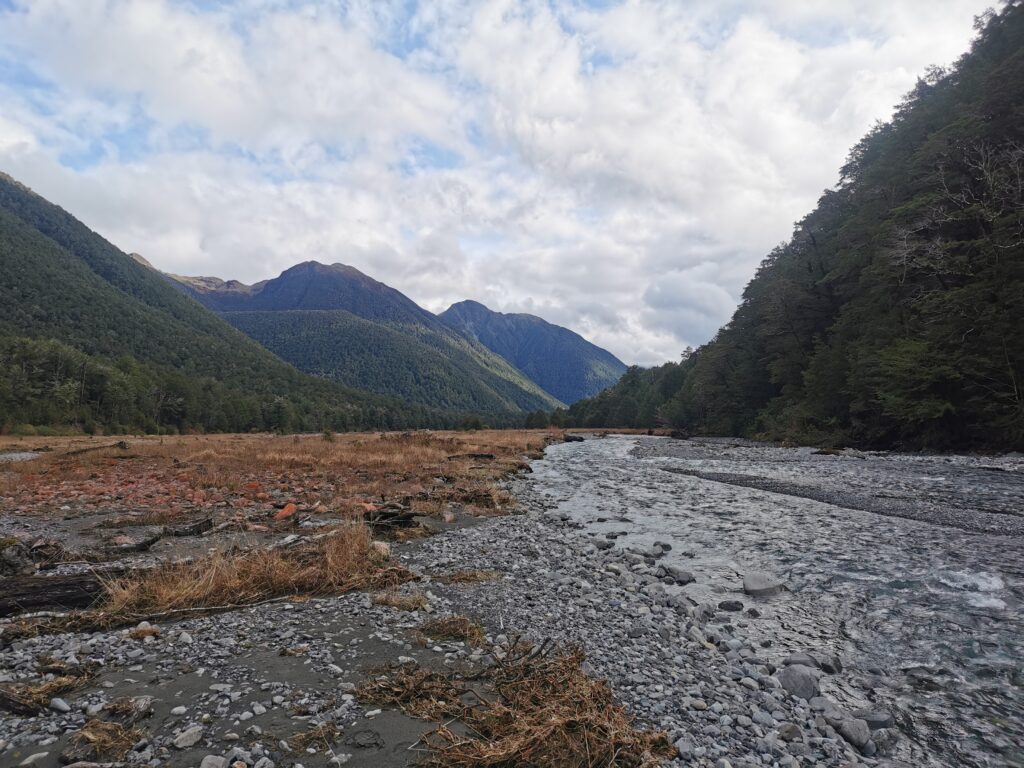 If traveling by Campervan or wanting to camp, take advantage of the campsites the resort has to offer. Set back from the Maruia river with views out to the nearby forest you're surrounded by nature.
All sites are non-powered, but there are on-site bathrooms and showers for campers. The pools are a short walk from the campground and 24 hours pool access is included in the cost of your campsite fee.
Glamping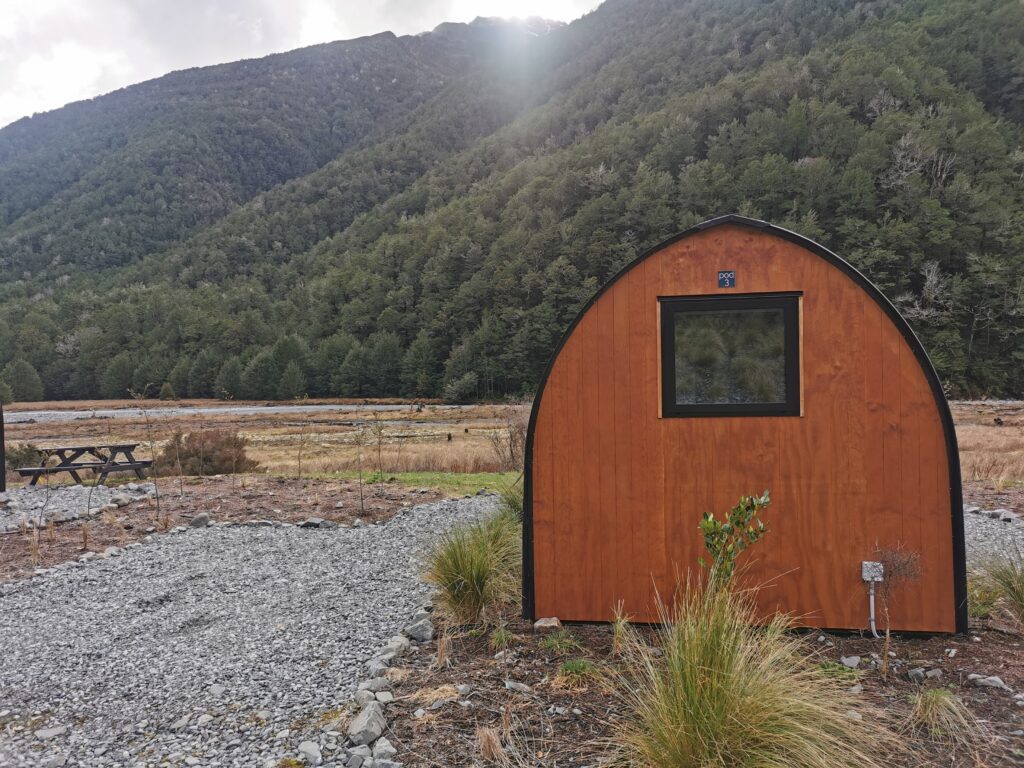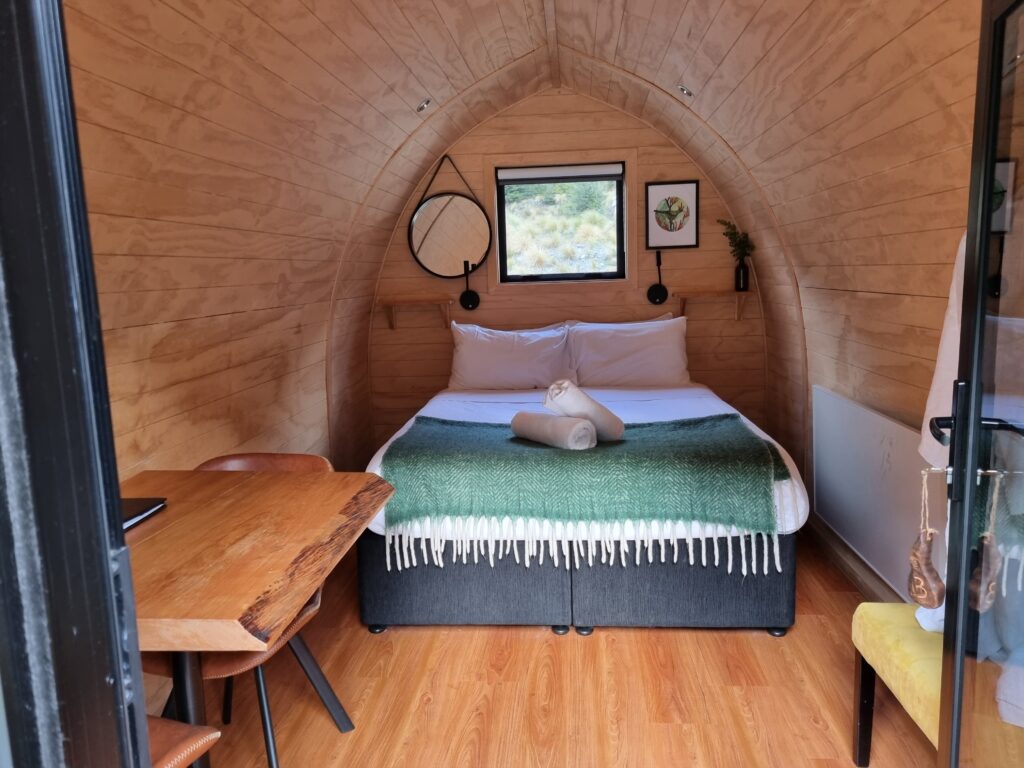 These glamping pods/ cabins are absolutely divine. We stayed here in winter and they were extremely warm and cozy. Step out your front door and you are greeted by the Maruia river with views out to the nearby forest.
These rooms are surprisingly spacious and have plenty of space to sit and have a meal (if you have brought your own food) or dine in at the restaurant.
Bathrooms are a short walk from the cabins, as well as the pools. Included in the cost of accommodation is 24 hours pool access.
Luxury suites
For 5-star accommodation, stay in one of the hotel suites. These rooms offer relaxing bliss with a true focus on health and wellness. The earthy decor matches the local surroundings of the Lewis pass. There are no TVs or phones in the rooms to let you truly embrace your peaceful escape. All rooms overlook the gardens or mountains. Bathing in the thermal pool and sauna area are open 24hrs to accommodation guests.
Are you planning a trip throughout New Zealand?
Check out some of our favorite articles below.