Taupo (pronounced Toe-Paw) is the adventure capital of the North Island, with a beautiful lake and spectacular mountains nearby. Being approximately halfway between Auckland and Wellington, in the centre of the North Island, makes it an easily accessible holiday spot. If you love the outdoors and adventure then Taupo, New Zealand is a place you must-visit. With many of the things to do in Taupo revolving around the outdoors and its beautiful natural scenery, you won't be disappointed.
Lake Taupo was created approximately 27,000 years ago by a huge volcanic eruption. Since then, lake Taupo has been the convergence point of many Maori routes through the North Island and is steeped in Maori cultural history. This means you can find adventures that mix with the cultural history of the region.
Article Contents
---

Things to do in Taupo
Where do I start with this town? Whether you have one day in Taupo or one month, you'll find reasons to love it! I have grown up in Auckland, New Zealand but after marrying a Taupo man the carefree life and proximity to many endless adventures mean we are moving down there for six months to truly enjoy the area. Here is a list of our top things to do in Taupo for the adrenaline junkies and outdoor explorers.
1. Visit the Legendary Huka Falls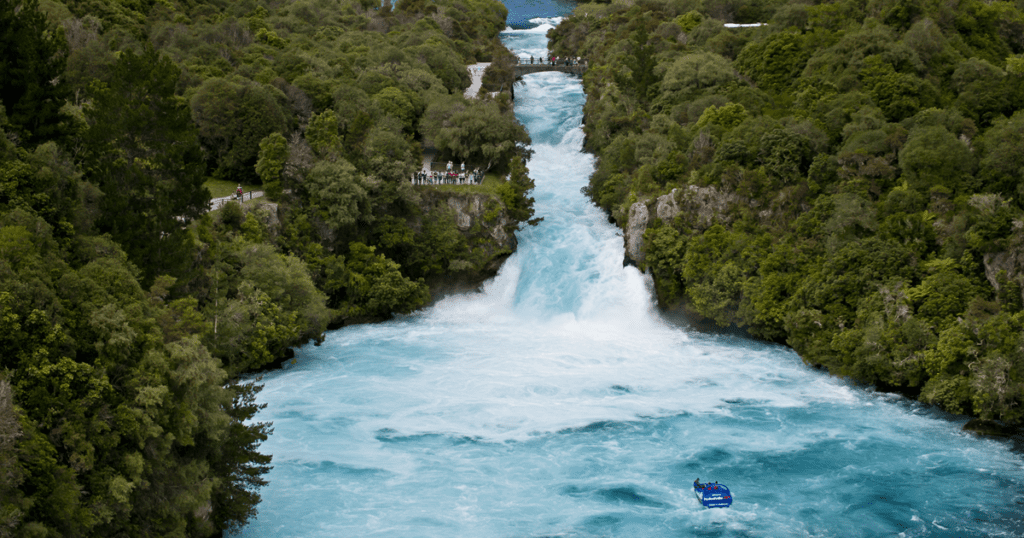 One of the top things to do in Taupo is visit the mighty Huka Falls. Huka is the Maori word for 'foam', and it certainly lives up to its name. The river, which flows from the crystal clear waters of Lake Taupo, is normally 100m wide. But here at Huka Falls, it narrows into a 20m wide ravine, pushing 220,000 litres of water every second over the falls. The roaring of the waterfall is deafening!
There are several viewing points located around the falls. Definitely an Instagram-worthy location!
How to do it:
If you're up for an adventure you can do the one-hour walk/30 min bike ride from Spa Park to Huka Falls. This trail begins beside the calm river and meanders alongside the river through native bush. You'll know when you are getting close to Huka Falls as you'll start to hear the roaring of the falls.
Alternatively, there is a car park at Huka Falls you can drive to that is 5 mins from Taupo town centre. For those that take the adventurous route, it's worth taking your togs/swimwear and a towel as there is a hot water stream that flows into the Waikato River at Spa Park near the start of the track.
2. Take a relaxing dip in the Wairakei Hot Pools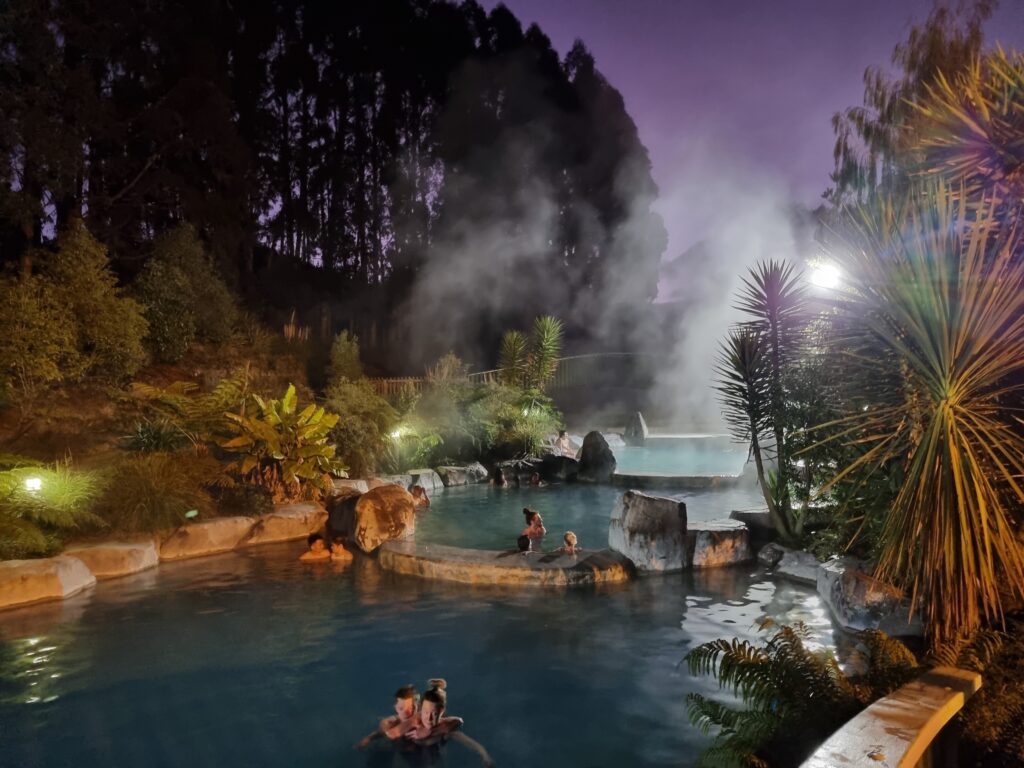 After a day of adventure, visiting the Wairakei geothermal hot pools is another one of the must things to do in Taupo. The Wairakei thermal hot pools are one of our favourite places in Taupo to kick back and relax. Surrounded by native trees and overlooking silica terraces, the setting is serene. The thermal water, which comes from 1.5km underground, has healing mineral properties. You'll come out of the pools with a squeaky feeling to your skin, which is the Silica. Staff at the pools often tell you not to shower straight after your swim to allow the minerals from the water to soak into your skin.
How to do it:
Location: 671 Wairakei Drive, Wairakei, Taupō 3377, New Zealand.
Cost: $25 per person (Adults only – over 14 years). Although you can usually find deals for the pools through grabone.
3. Go Jet Boating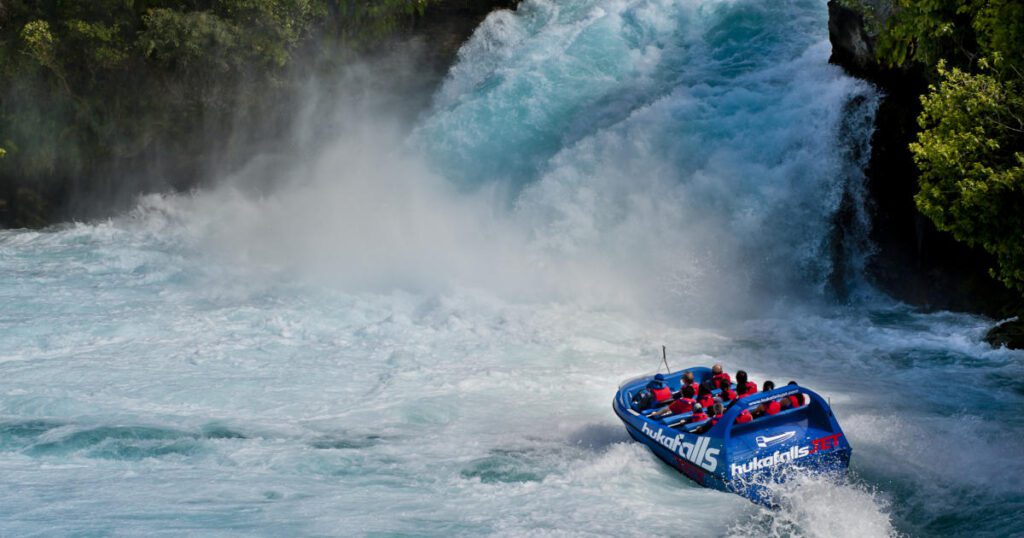 One of the most fun things to do in Taupo is Jet Boating below one of New Zealand's most breathtaking waterfalls. Traveling at speeds of up to 80km/h, zipping past cliff faces, and spinning in 360s makes it an exciting adventure for those adrenaline junkies.
We did this on a cool, crisp, winter's day, but with heated handrails on the boat and a warm jacket you didn't notice the cold. The view of Huka Falls from below gives you a different perspective and appreciation for just how much water is rushing through such a tiny gap. This is an adventure you do not want to miss.
How to do it:
Location: Hukafalls Jet Taupo, 200 Karetoto Road, Wairakei, Taupō, New Zealand.
Cost: Adults $99, Children $67, Families $332 (2 Adults + 2 Children). Book here.

4. Mountain Biking at Craters Bike Park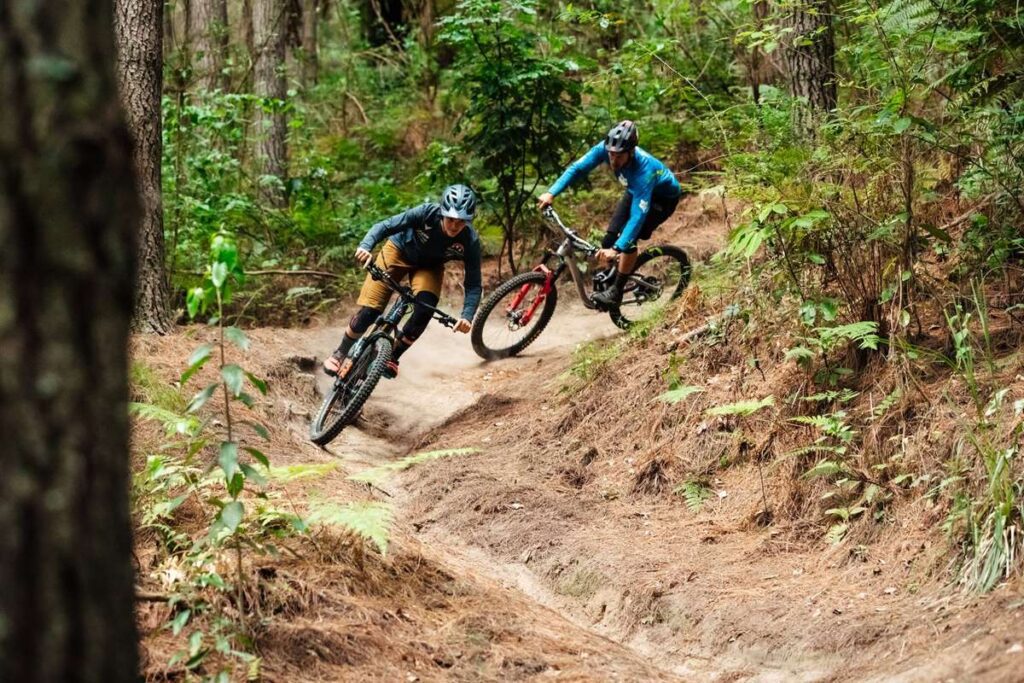 On the edge of Taupo township is Craters Mountain Bike Park. This ranks high on the list of things to do in Taupo. There is approximately 50km of trails to choose from. Whether you are a beginner or advanced, there's plenty to keep you entertained for one hour or one day. The tracks are set amongst pine trees with views of Lake Taupo in places. Keep an eye out for the blackberry bushes in summer to pick yourself a delicious morsel!
I am most definitely a beginner on a mountain bike, but this was still a lot of fun. Unlike many other mountain bike trails in New Zealand, the volcanic pumice here means the trails stay relatively dry, allowing for all-year-round biking.
How to do it:
Location: Poihipi Road, Wairakei, Taupō 3377, New Zealand.
Cost: Visitor pass $10 for 7 days or $50 annual membership. Buy here.
5. Go Sky diving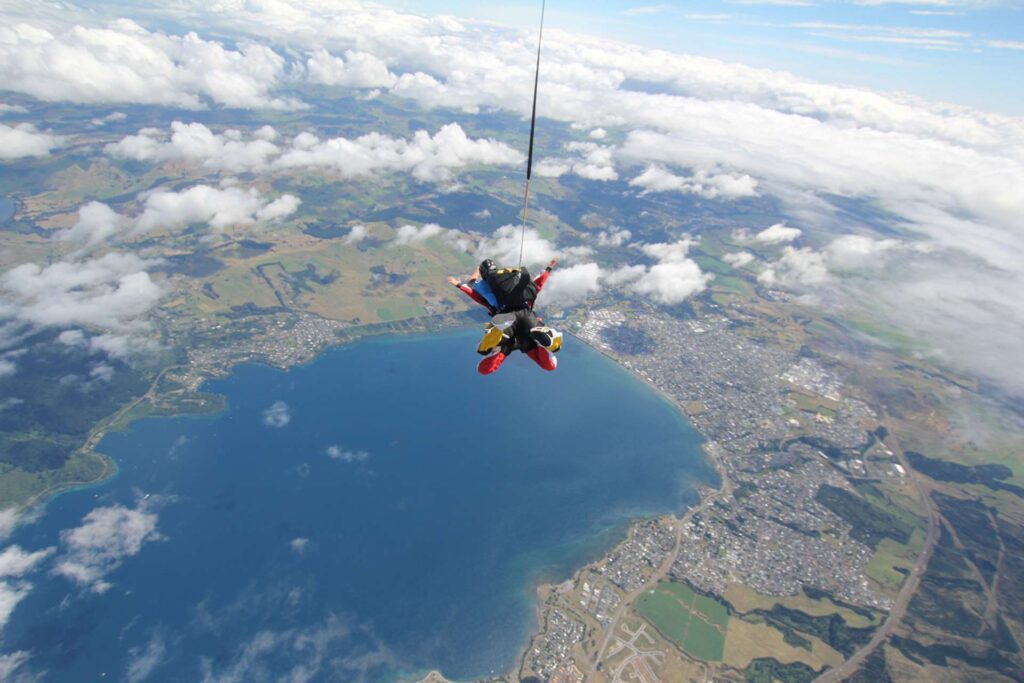 If you think the views of Lake Taupo from the ground are impressive, imagine what the lake and surrounding mountains look like from the sky! One of the best things to do in Taupo is to go for a skydive. Nothing beats free falling from up to 18,500ft with uninterrupted views across Lake Taupo and the picturesque Tongariro National Park.
We did this with Skydive Taupo, the premier skydiving company in Taupo and had an amazing time. Doing it during the middle of winter meant it was freezing cold, but you got those beautifully crisp, clear winter views.
How to do it:
Location: Taupo Tandem Skydiving, Anzac Memorial Drive, Wharewaka, Taupō 3378, New Zealand.
Cost: From $199. Book here.

6. Walk up Mt Tauhara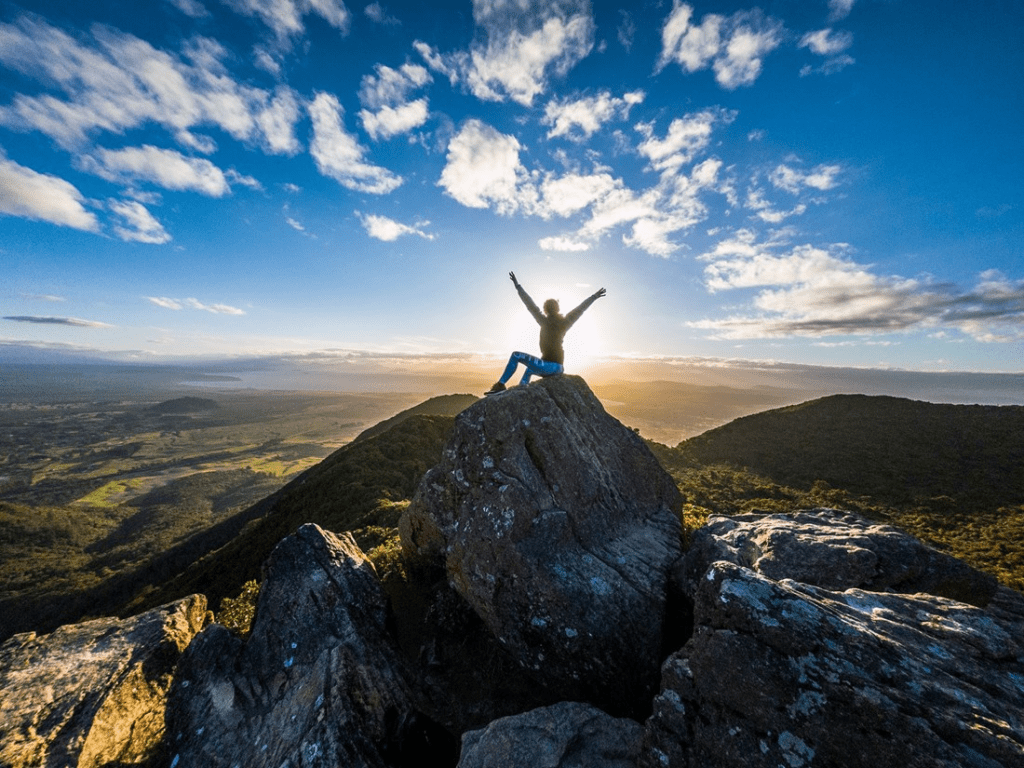 This trail walk is one of the less known things to do in Taupo for many tourists, but it is a popular walk amongst locals. This trail is a 2.5km walk. It is a bit of a steep climb that sidles up the mountain through native bush to the summit that sits at 1,088m, but the reward is 360-degree views over Lake Taupo and the central North Island.
A great place to watch the sunrise/sunset. Just make sure you have a torch if you are doing the walk at dawn/dusk. If traveling the track in the dark, stop in some of the ravine-like parts, turn off your lights, and see if you can find some glow worms that hide here.
How to do it:
Location: 94 Mountain Road, Maunganamu, Taupō 3379, New Zealand.
Cost: Free
Head to the Mount Tauahara Carpark at the location above. From here there will be a car park. Park up and then walk over to the style where you can climb over the fence into a paddock. There will be a sign noting the Mt Tauhara walk. You'll initially walk through some farm-land, up a hill leading towards a bush line. You'll see an entry point heading into the bush. From here you will simply be able to follow the track up.
7. Try Bungy Jumping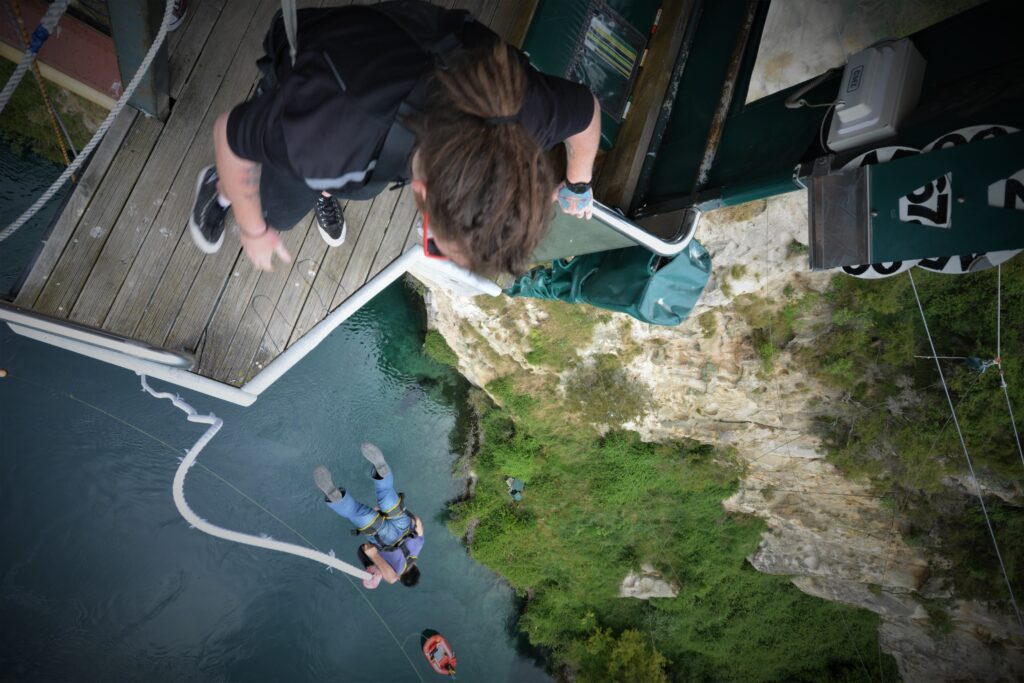 If an adrenaline rush is what you're after, then Bungee Jumping will hit the spot. Let's be honest, who hasn't imagined what it would be like jumping from a height. The good news is you can, and safely!
You can jump headfirst over the Waikato river with the option to dip your head into the water on the jump if you so wish. Yes, I did scream when my feet left the platform. But yes, it was an amazing feeling. Definitely right up there on list of best things to do in Taupo.
How to do it:
Location: AJ Hackett Taupo Bungy & Swing, 202 Spa Road, Taupō 3330, New Zealand.
Cost: Adult $185, Child $135. Book here.

8. Play mini golf
For easy and fun things to do in Taupo try out the mini golf course. It's right across the road from the lake so you can enjoy the view of the lake at the same time. This is the only 18-hole mini golf course in Taupo. Get a hole-in-one on the 18th hole and receive a free game!
How to do it:
Location: Taupo Mini Golf, 11 Northcroft Street, Taupō 3330, New Zealand.
Cost: Adults $13, Children 5 – 14 years $9, Under 5's $3.
9. Swim in natural hot pools at The Squeeze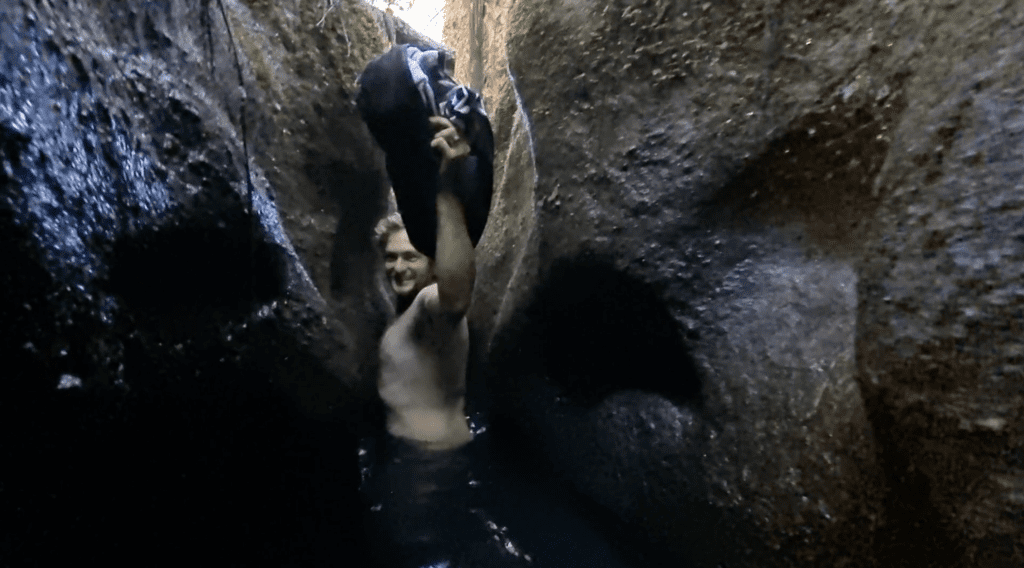 One of the less well-known adventures, and things to do in Taupo, is The Squeeze. As the name implies, The Squeeze is a narrow gorge that has been worn through the rock bank by a small river. At the head of the river is a natural thermal hot pool. You enter the water (about knee depth) at the opening in the rock face and walk through the narrow rock wall and crevasses. After following this river for approximately 5 mins, the river opens up into bush and you'll emerge near a beautiful natural hot pool amongst the native trees.
Located on Orakei Korako lake, on the outskirts of Taupo. You can get here by Jet Boat or Kayak. You should allow a full day for this adventure.
How to do it:
Location: New Zealand Riverjet, 1 Tutukau Road, Mihi 3083, New Zealand.
Cost: Adult $189, Child $99. Book here.

10. Visit Aratiatia Dam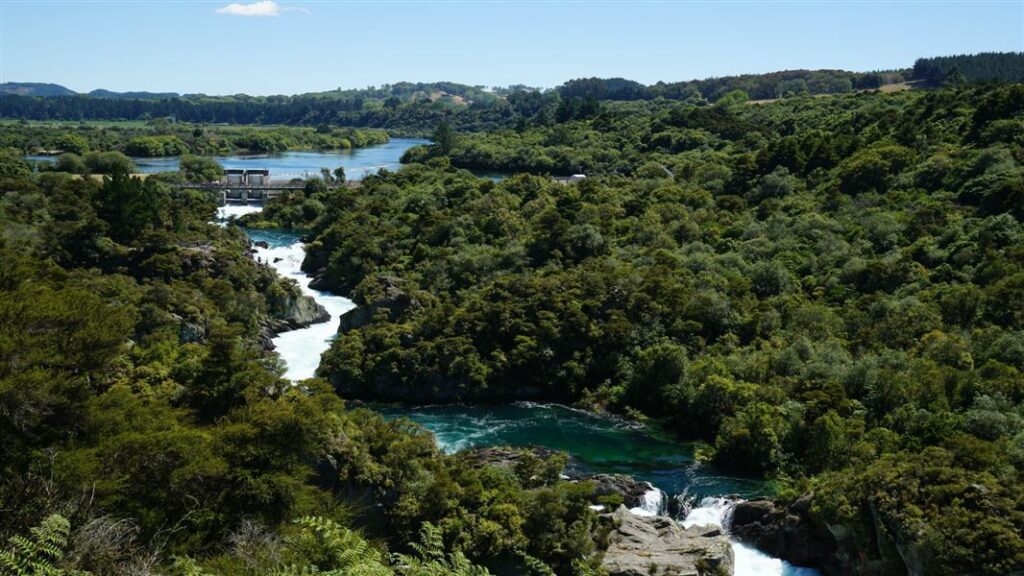 Another one of the awesome things to do in Taupo is visit the Aratiatia dam when they release it to the rapids below. Get there 5-10 mins before the water is released to have enough time to walk to one of the several viewing points and see the gorge with the small trickle of water in the river. Once the water is released, watch as the gorge below fiercely fills up with water. The sides of the gorge will disappear under water before quickly receding again as the dam closes.
How to do it:
Location: Aratiatia Power Station, 155 Rapids Road, Wairakei, Rotokawa 3377, New Zealand
Aratiatia Dam and Rapids Opening Times:
Summer release hours (October to March) – 10am, 12pm, 2pm, 4pm
Winter release hours (April to September) – 10am, 12pm, 2pm

Cost: Free

How to get to Taupo
By Air
Taupo has a domestic airport you can fly into from most major towns/cities within New Zealand. One-way flights with Air New Zealand, from Auckland start from $49 and there are plenty of flight options throughout the day.
By Bus
Many buses go through Taupo as it is on the main route from Auckland to Wellington. The best option for traveling by bus is with Intercity. You may have previously heard of other New Zealand bus companies such as Magic Bus, Naked Bus, Manabus, or Skip Bus. These companies have unfortunately closed.
By Car
The majority of travellers get to Taupo by car.
Drive times to Taupo:
Auckland to Taupo: 3 hrs
Hamilton to Taupo: 1hr 50 mins
Tauranga to Taupo: 1 hr 50 mins
Wellington to Taupo: 4 hrs 30 mins
If you need to rent a car there are a few good options.
Jucy Rentals – budget car options + small campervans
Snap Rentals – available in Auckland, Christchurch, Queenstown
Ace Rentals – Auckland, Wellington, Christchurch, Picton, Dunedin, Greymouth
---
Taupo Accommodation
Budget Options:
Location: Taupo Town Centre
You may recognise the Haka name as they are a well-known adventure travel provider who offers some amazing guided tours across New Zealand and has hostels in all the popular tourist spots. So you're likely to meet like-minded adventurers during your stay here.
This Taupo accommodation is an 8-minute walk from the town centre. The backpacker accommodation offers a range of up-market dormitory rooms, as well as private rooms for those who like their own space. Relax on a sun lounger and enjoy uninterrupted views across Lake Taupo to Mt Ruapehu and Mt Tongariro.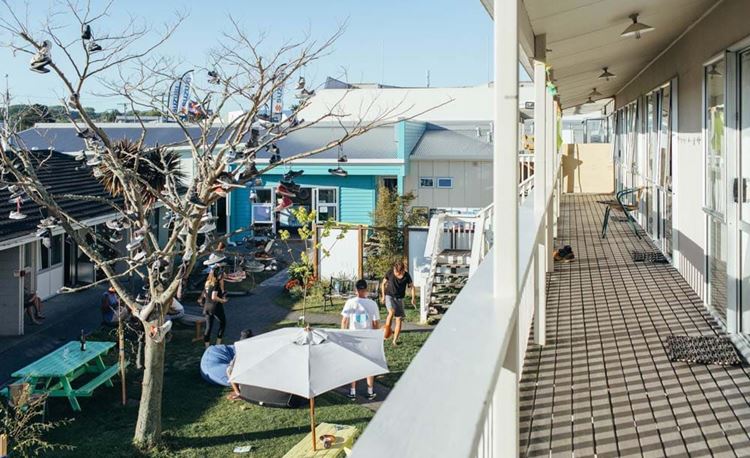 Location: Taupo Town Centre
Another well-known Taupo accommodation provider for backpackers is the YHA. The hostel is in a peaceful yet central location with a well-equipped, spacious commercial-style kitchen guests can use to cook their own meals. There is a range of room options ranging from shared dormitory rooms to private family rooms. The way the dormitory rooms are set up means you are able to have a lot of privacy to yourself.
Mid-range couples/families accommodation:
Situated directly across the road from Lake Taupo you will enjoy views across the lake. Each room has its own private pool filled with natural thermal hot water, and some rooms come with their own kitchen should you wish to cook your own meals. This accommodation is a 10 min stroll to town along the lakefront.
Situated a 5 min drive from town, Debretts is a well-known spa resort with onsite accommodation. A wide variety of accommodation is available, from campsites through to three bedroom chalets, making it a great option for couples and families. The grounds are stunning, and the staff are extremely friendly. Make the most of your stay and take advantage of everything the Spa resort has to offer, from private thermal pools to a warm water playground and water slide for the kids.
Luxury Accomodation
Location: Huka Falls, Taupo
Stay at Taupo's most luxurious lodge. Located on the edge of the Waikato river, above the Huka Falls, the Huka Lodge is Taupo's premier lodge. Guest suites and private residences offer superior bliss, appointed to the standard you would expect from a 5 star lodge – with views to die for (over rolling laws or across the Waikato river), premium white linens, deeps baths and stunning furnishings. Rates for rooms include a full country breakfast, pre-dinner drinks and canapés, gourmet five-course dinner with daily changing menu, use of the lodge facilities and return Taupō Airport transfers.
Guests can experience many exclusive lodge based activities such as tennis, petanque, fly fishing or a walk to the Huka Falls. For the more adventurous white water rafting, a Heli tour, or Formula one experience.
Are you planning a trip throughout New Zealand?
Check out some of our favorite articles below.