The Coromandel Pinnacles, officially called the Kauaeranga Kauri Trail, is a popular walk in the Coromandel region known for its majestic views from the top of the walk, across the coastal coromandel ranges and nearby beaches and towns. The Pinnacles themselves are of course the highlight, climbing up ladders built into rock faces to get you to the very top of these rock faces (especially if you can do it at sunrise or sunset!).
Article Contents
---
The Coromandel Pinnacles Walk/Hike
Distance: 14 – 15km (return trip)
Time: 7.5 – 8 hrs (return trip)
Difficulty: Intermediate
Cost: Free if day trip, up to $25 if staying in the hut
The Coromandel pinnacles are a great option for families, day adventurers, and those getting into overnight hiking. 
You'll need to put aside a minimum of one day to do this walk or there is also the option to stay at the top of the hill in a DOC hut or campsite, meaning you can take your time and soak in all the sites.
There are two options you can take to get to the top 1) Webb Creek track; 2) Billy Goat Track. Most choose the Webb Creek track due to it being slightly shorter (I also personally think it is the more picturesque option) and has a few cool features.
Webb Creek Track to Hydro Camp (6km / 1.5 – 2 hrs one way)
From the car park, you'll cross the Kauaeranga river via a cool swingbridge. Taking the first right on the track will lead you to Billygoat falls, the second track on your right is where Webb Track begins. This pathway starts in New Zealand native forest which quickly begins the climb up to Hydro Camp where the DOC hut and campsites are located. There are quite a few steps made from both rock and logs. The track eventually starts to plateau out and Hydro Camp will come into view from a distance, along with the majestic Pinnacles to your right.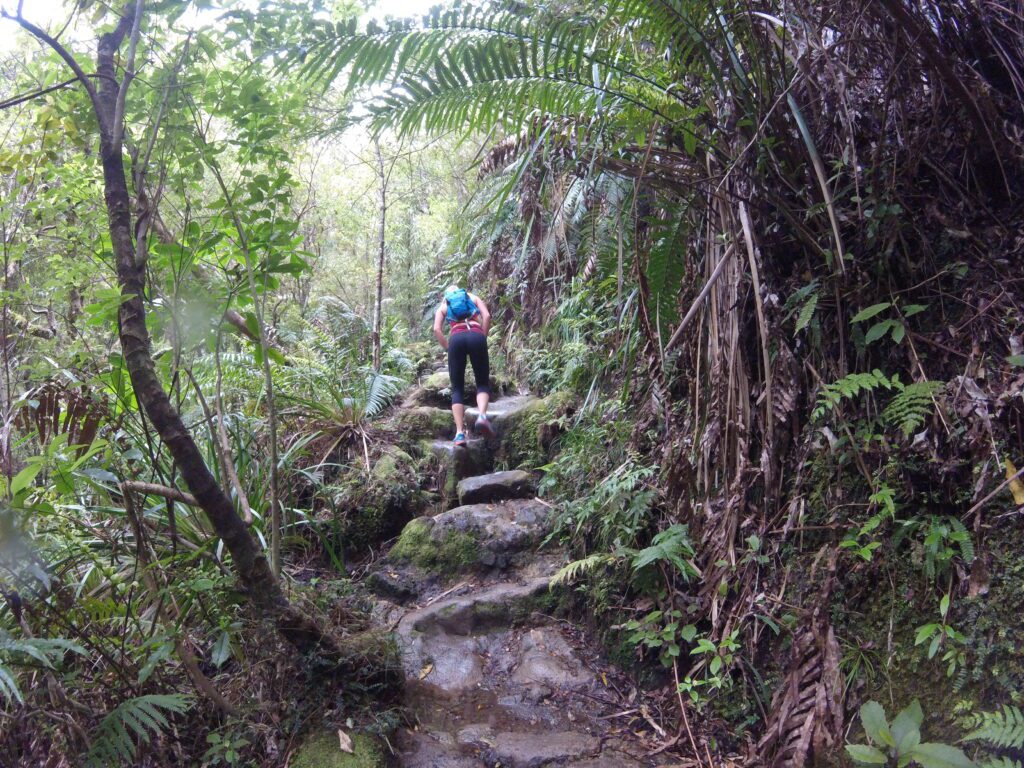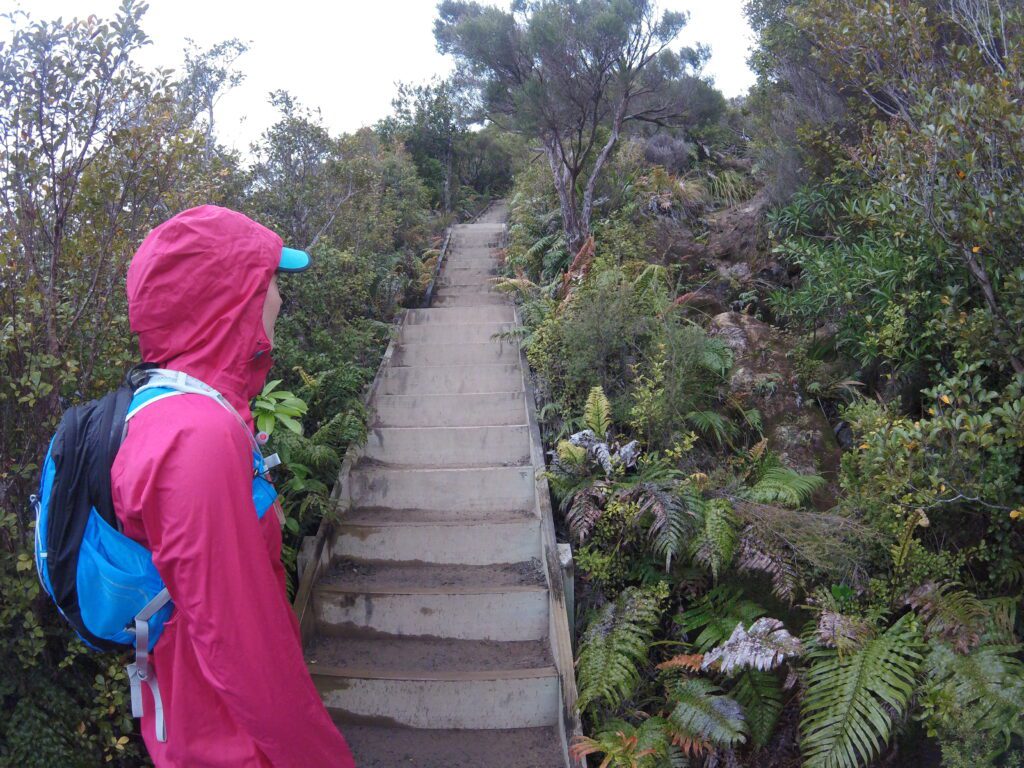 Billygoat Track to Hyrdo Camp (7km / 2.5 – 3hrs – one way)
This track starts in the same location as the Webb Creek track but instead winds up the other side of the valley. This option provides a great vantage point of Billygoat Falls (180m) and also crosses a river. As the name suggests this track is a little less well maintained but is still a great option and provides alternate viewpoints. My recommendation would be to go up via Webb Creek track and then come back down via Billygoat track.
Note: during times of high rainfall or flooding the river on this track can be dangerous – use Webb Track only.
Hydro Camp to The Pinnacles (1km/ 40 mins – one way)
From Hydro Camp junction, take the Pinnacles Track which climbs and sidles around a hill before following a more open ridge. From here you will see a series of ladders built into the rocks allowing you to climb up to the top of The Pinnacles and viewing platform. Take your time and watch your foot placings. The 360-degree views of the Coromandel Peninsula from the top are breathtaking.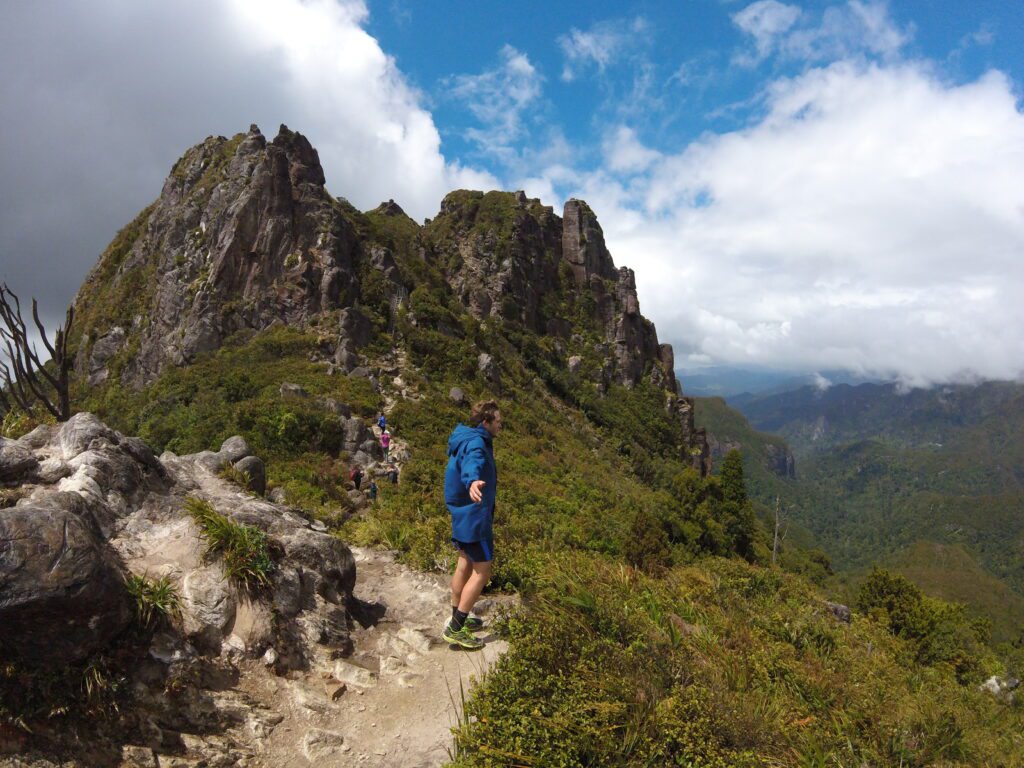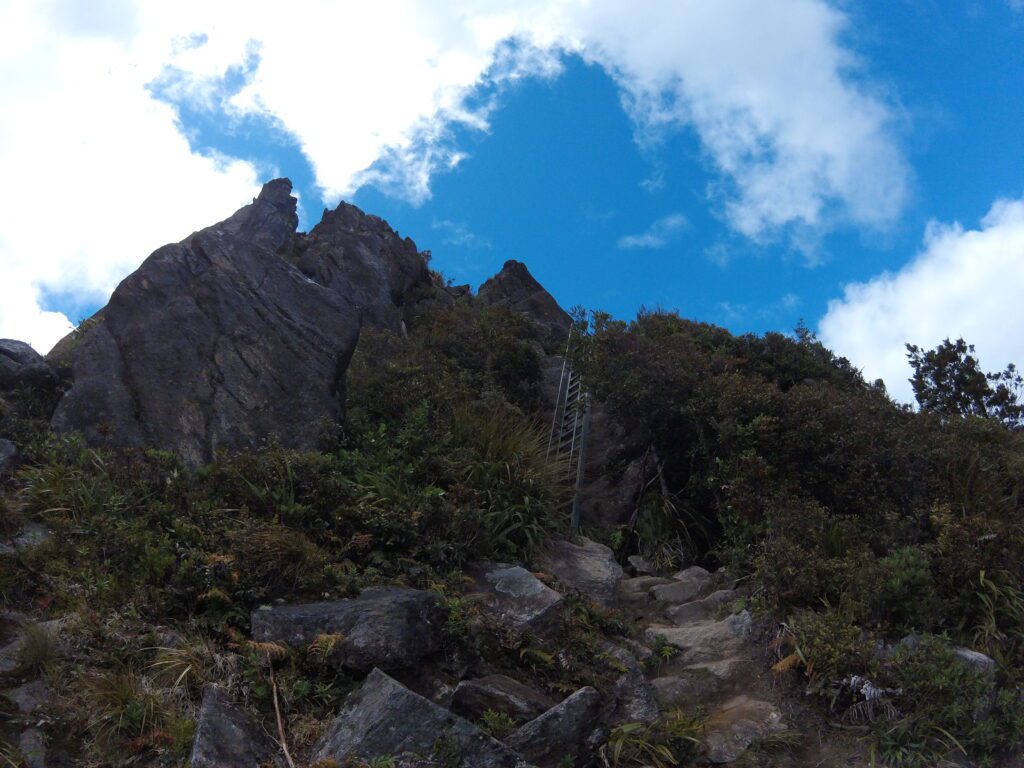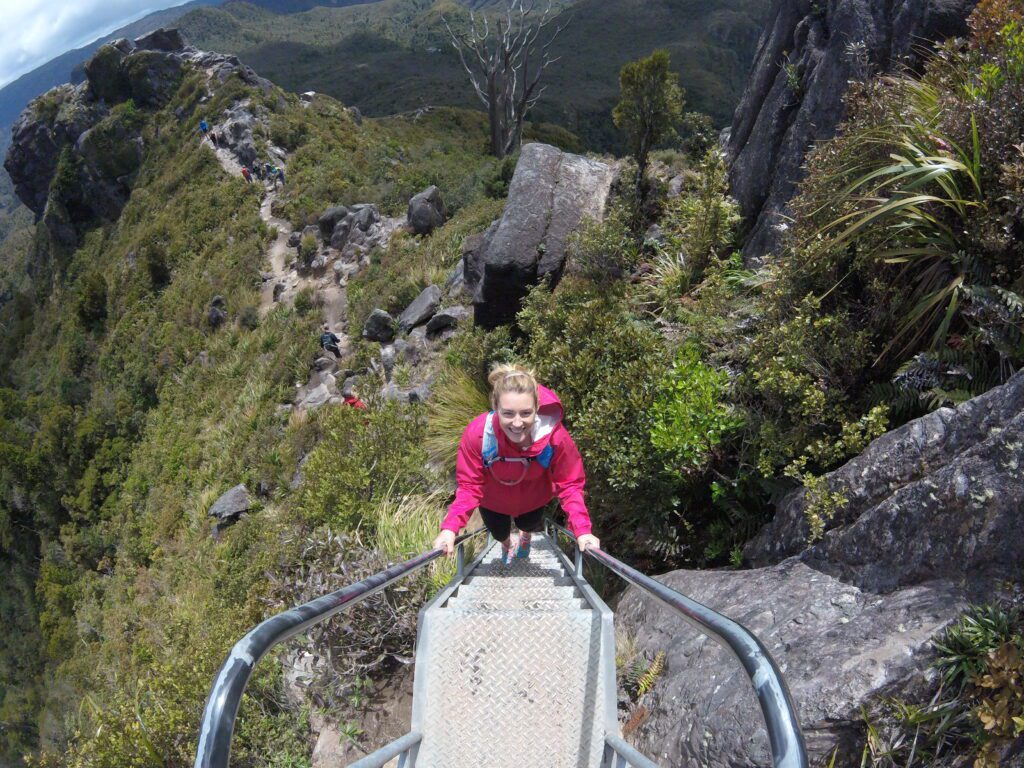 The Pinnacles Accommodation
The Pinnacles Hut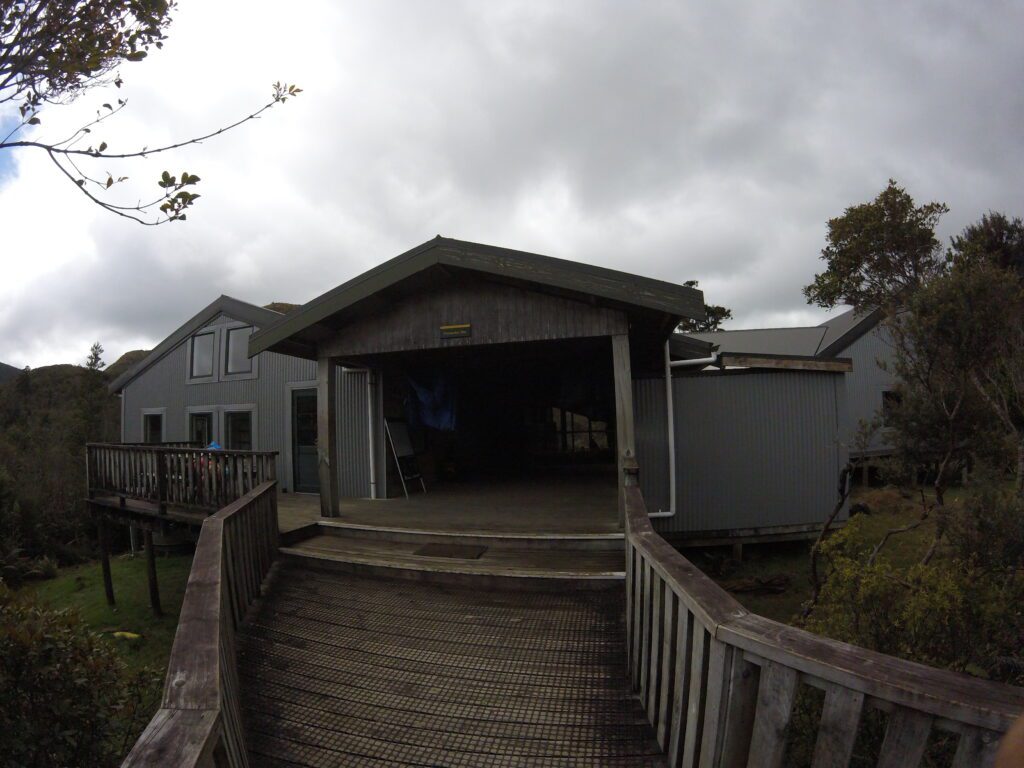 This hut sleeps 80 people and is extremely well equipped, making it easy for anyone to stay here without needing full camping equipment.
Facilities:
Cooking facilities incl BBQ, gas cooker, and solid fuel burner
Cold Showers
Non-flush toilets
Lighting
Bunk beds with mattresses
There is a permanent warden on site
Cost to stay:
Adults (18 + years) – $25/night
Children (5-17 years) – $12.50/night
Infants (0-4 years) – Free
Where to book: DOC website
Check-in: from 2:30pm
Check out: 9 am
Dancing Camp Campsite
If The Pinnacles Hut is full, or you simply prefer camping, there is also the option to stay at the nearby campsites (5 min walk from The Pinnacles Hut). The camp is given its name for being near the historic Dancing Camp driving. The campsite has four raised platforms, each platform can take up to four people.
Facilities:
Non-flush toilets
Tap water – must be treated before drinking
Cost to stay:
Adults (18 + years) – $12.50/night
Children (5-17 years) – $6.25/night
Infants (0-4 years) – Free
Where to book: DOC website
How to get to The Pinnacles Walk
Location: Pinnacles Walk Carpark, Kauaeranga Valley Road, Waikato, New Zealand
Drive times to The Pinnacles Walk:
Auckland to The Pinnacles carpark: 1 hr 30 mins
Hamilton to The Pinnacles carpark: 1 hr 30 mins
Tauranga to The Pinnacles carpark: 1 hr 45 mins
Whitianga to The Pinnacles carpark: 1 hr 30 mins
From SH25 at the southern entrance to Thames, turn right into Banks Street beside the service station. Banks Street veers right into Parawai Road, which then becomes Kauaeranga Valley Road.
Follow this for 13 km to the Kauaeranga Visitor Centre. The road continues unsealed a further 9 km to the road end. This is where the track starts.
Be sure not to leave any valuables in your car.
What to know about The Pinnacles Walk
Bookings for the huts and campsites are essential.
Phone reception is patchy so be organised and know where you are heading in case your phone's GPS stops working.
The closest shops are in the town of Thames, bring with you everything you need for your stay.
Best time of year to visit: Summer is the best time of year to visit, but is also the busiest time of year. Spring and Autumn are great times of year to visit as the tracks will be quieter, just make sure you'll have enough daylight hours to be able to do the walk. If going in winter make sure you take good hiking boots as it can get very wet and slippery.
What to Bring:
Day Trips:
Enough food for your trip – energy gels or lollies are a great addition to your food supplies to keep you going!
Warm clothing and rain jacket
Sunscreen, sunglasses, hat
Water
Phone/camera/Go-pro
Overnight Trips:
Eating and cooking utensils
Sleeping bag
Tent (if camping)
Head torch
Charger/battery pack – there is no electricity for chagrin devices in the Hut
---
Other Activities in the Area:
Cathedral Cove
Cathedral cove is one of the most popular spots to visit on the Coromandel Peninsula. It is a naturally formed rock arch set on a beautiful white sandy beach. It's a great spot for a picnic and a swim on a hot summer's day. You can get here either by parking at the top and walking down the walking track (approx 30 mins), or get the ferry from Hahei beach. If you're wanting the place to yourself, try visiting in winter as the place can be deserted!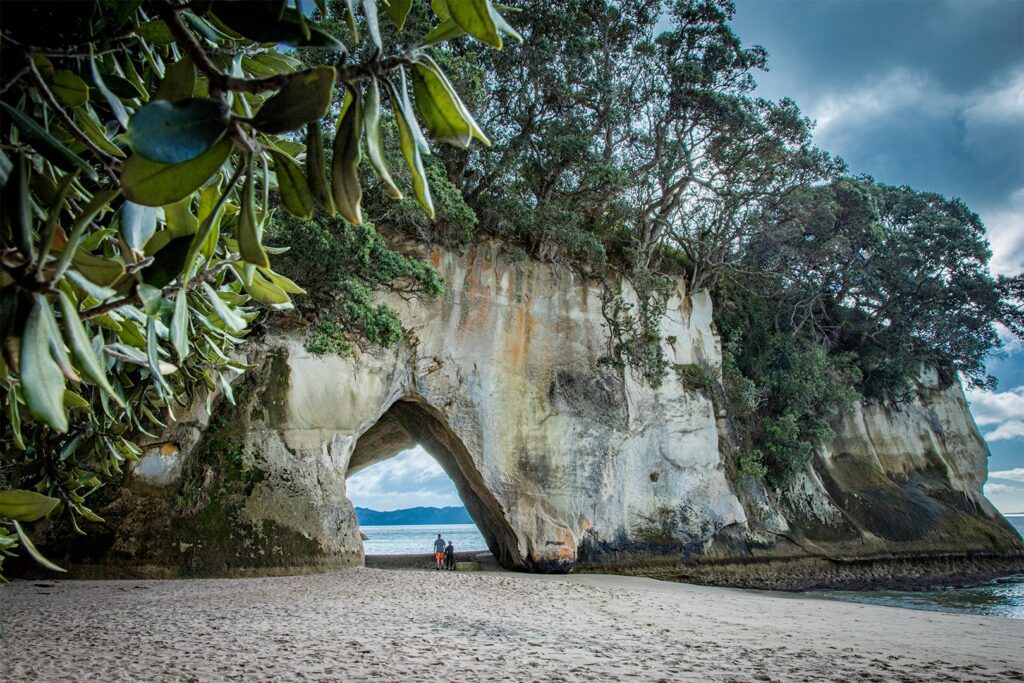 Hot Water Beach
This is an iconic New Zealand beach known for the thermal hot water that lays below the hot sand. Bring your spade (or rent one from the store at the beach) and dig out a hot pool for yourself. You'll be able to find where the hot water is by digging your feet into the sand.
This activity is tide dependent so plan to head along at low (or just before) low tide. Sit in your hot pool and watch as the tide comes in to cool you down.
Hot Water beach is also a surf beach so why not bring along your surfboard or bodyboard and have a play in the ocean at the same time.
The Lost Springs
If you're after a relaxing thermal soak that will transport you to paradise then visiting The Lost Spring in Whitianga is a must. These geothermal pools are truly remarkable, a hot pool experience you won't forget.
The Lost Springs Hot Pools is situated on 4.5 hectares nestled amongst Whitianga suburbia, but you wouldn't know it. There are three different pools surrounded by native and tropical trees which encroach over the pools, making for a serene and relaxing setting. The bonus is the emerald cave which you can swim into.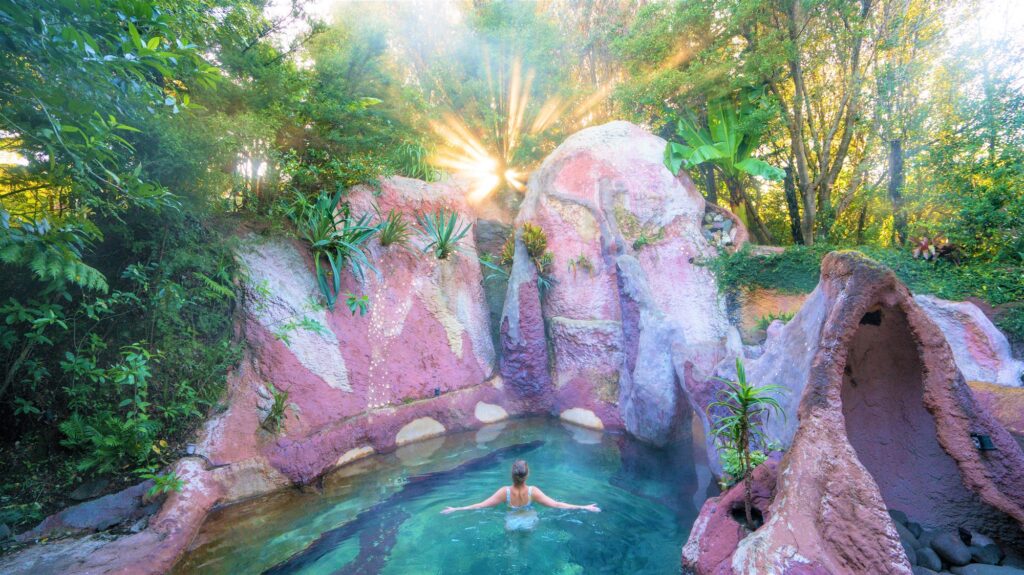 Opito Bay & Crayfish Bay
If you're after a beautiful Coromandel beach and a walk with a view then Opito Bay is well worth the visit. It is a long white beach, great for sunbathing and safe, calm swimming. If you're up for a walk, then head along the beach towards the eastern end where you will see a hill. At the bottom of the hill is some stairs that sidle up the side taking you to a stunning viewing point across the Mercury Islands and out to sea.
Extra for experts – if you're a keen snorkeller, there is the option to turn right off the beach, approx. 100m before the stairs to the first walk mentioned starts. Here you can take a short walk over to Crayfish bay. This is a rocky little bay and small lagoon. The lagoon is great for kids to snorkel in to see many fish.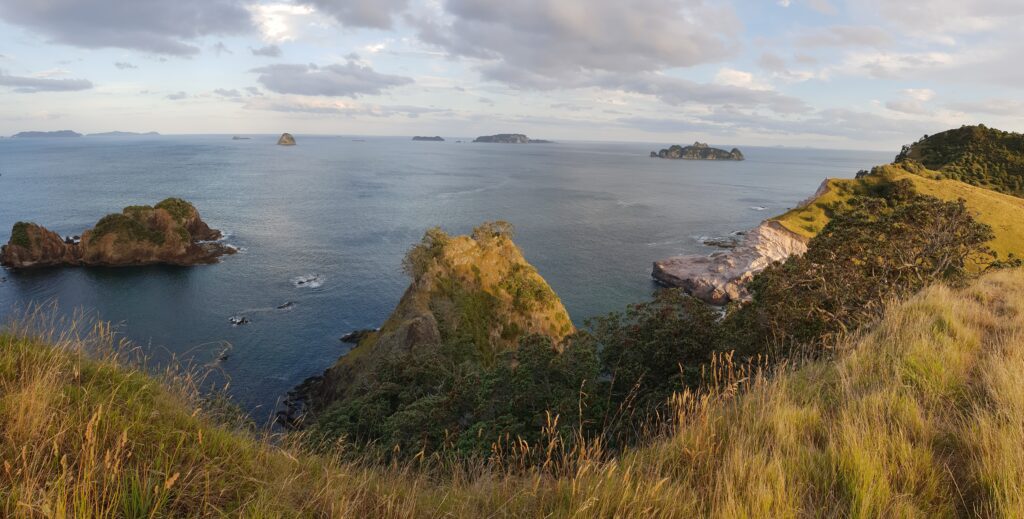 Kuaotunu Killer
Hanging out for an Ice Cream? Then look no further than the famous Kuaotunu store for a Kuaotunu Killer ice cream. This is a 7-scoop ice cream for $10. The scoops are extremely large so you'll have the challenge to eat it before it all melts! 
New Chums Beach
Voted one of the top 10 beaches in the world, this beach is a must-visit. New Chums is a 1km long windswept white beach with beautiful swimming, only accessible by foot. From the northern end of Whangapoua beach walk along the rocky shoreline and over the headland, across the saddle. There is room for picnics and a long walk along the beach, looking for shells, rocks, and marine animals. The walk is best done at low tide so you can get around the shoreline.
Are you planning a trip throughout the North Island, New Zealand?
Check out some of our favorite articles below.