Rotorua is the geothermal capital of New Zealand, well known for its hot thermal pools, bubbling mud, geysers and not to mention the slight egg smell that comes with it! It is situated on the side of Lake Rotorua making it a beautiful destination to visit. Rotorua is approximately halfway between Auckland and Wellington, in the centre of the North Island, making it an easily accessible holiday spot for most travelers.
Rotorua has been the convergence point of many Maori routes through the North Island and is steeped in Maori cultural history. This means you can find adventures that mix with the cultural history of the region.
If you love the outdoors, hot water, and learning about local Maori culture then Rotorua, New Zealand is a place you must visit, for a one of a kind experience.
Article Contents
---
Things to do in Rotorua
Rotorua is a popular stop for explorers and families alike for its variety of outdoor and geothermal activities. Here is a list of our top things to do in Rotorua for the adrenaline junkies, outdoor explorers, or those wanting to have a more relaxed adventure.
1. Go Luging
One of the most well-known and fun things to do in Rotorua is going luging.
It's hard to beat the thrill of racing your friends and family whilst zipping through native New Zealand forests, whipping round tight corners, and through tunnels. Skyline has a total of 7.3km of luging tracks suitable to all ages and abilities, making it a thrilling ride for all adrenaline junkies.
The luge tracks are accessed via a 900m Gondola rise so as a bonus you get to enjoy the spectacular views across Lake Rotorua and the city on your ride up.
How to do it: 
Location: Skyline Rotorua, 178 Fairy Springs Road, Fairy Springs, Rotorua 3015
Cost: From $52 for Adults and $34 for Children (6 – 14 years).
2. Take a relaxing dip in the Secret Spot Hot Tubs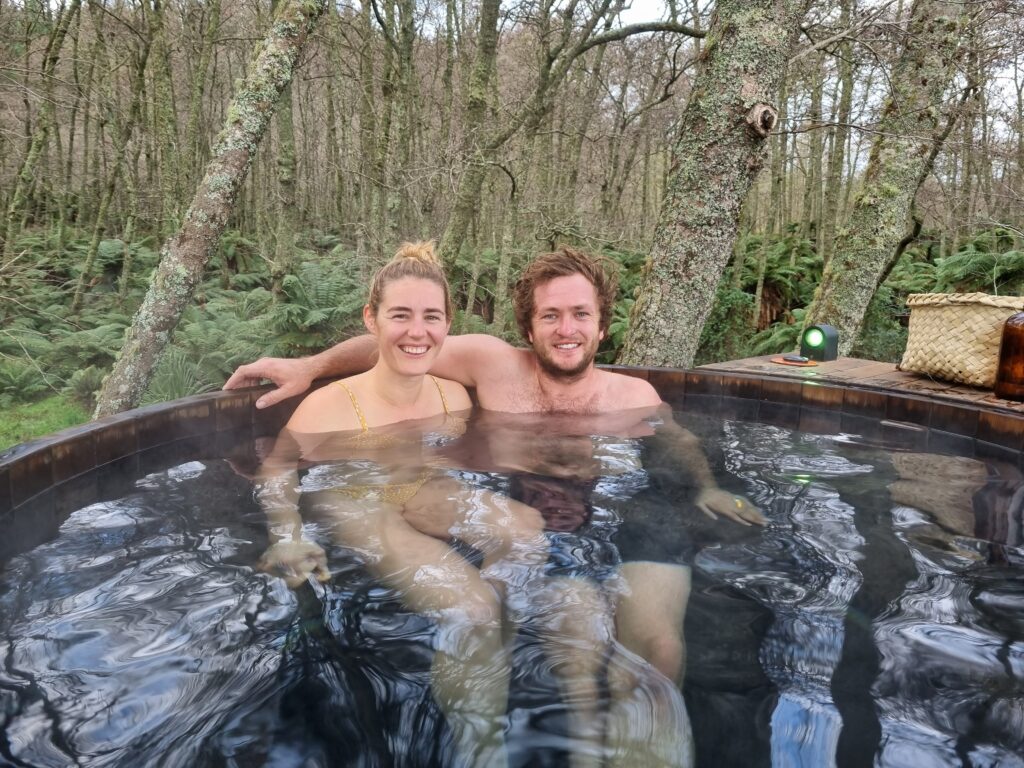 The Secret Spot Hot Tubs, located on the edge of the Redwood Forest (and beside the mountain bike park) is the perfect spot to unwind, after a day of adventure. Each hot tub is set amongst native NZ trees and overlooking a stream, making for a serene setting. The hot pools are filled with pure spring water from the surrounding hills and mountains. This spring water is packed full of minerals, perfect for tired bodies to soak in. Sit back, relax and reminisce on your day's adventures.
If an entire body hot tub is not for you, you can also try the complimentary "Shinny dip" mini tubs to soak your calf muscles after a hard day riding.
The Secret Spot also does a mean burger, so stick around afterward for a bite to eat.
How to do it:
Location: The Secret Spot, 13/33 Waipa State Mill Road, Whakarewarewa, Rotorua 3073
Cost: From $35 per person for 45 mins.
3. Go Zorbing
Zorbing is another one of the awesome things to do in Rotorua. A Zorb is essentially a giant bouncy ball. Jump inside the zorb, you can either be strapped into a seat, or the zorb is filled with water and you slide around on the bottom as the zorb is then pushed down a hill. It's an experience unlike any other, racing down a hill at speed inside a giant ball! You can try to stand up and run inside the ball or just sit and enjoy the ride. Either way, you'll end up in fits of laughter.
How to do it:
Location: Zorb Rotorua, 525 Ngongotaha Road, Fairy Springs, Rotorua 3015
Cost: From $40 per person.
4. Visit Te Puia Geysers
Visiting Te Puia Geysers is a must thing to do in Rotorua. This thermal wonderland lets you experience firsthand the biggest, naturally active, Geyser in the southern hemisphere. These geysers are vents in the Earth's surface that periodically eject a column of hot water and steam from the ground. Take a guided walk around the 60-hectare geothermal plateau, through uncovered natural bush, geysers, and bubbling mud pools. As part of the guided tour, you'll get to watch traditional Maori carving and weaving and hear stories from the Maori ancestors.
This tour is also available at night to experience a different aspect of the geothermal area.
How to do it: 
Location: Te Puia Geyser Springs, Hemo Road, Tihiotonga, Rotorua 3015
Cost: Adult $70, Child $35. 
5. Walk Amongst the Trees
If you're going to Rotorua, visiting the iconic Wharewaka Forest should be high on your list.
And for the adventurers within us what better way is there to explore this mighty forest than at height over suspended bridges?! Explore the 700m of suspended bridges amongst the 75 m tall, 120-year-old trees. This is a truly stunning experience. This walk takes approximately 40 mins to complete and you can do this during the day or at night time when the forest comes to life, lit up with beautiful, yet subtle lights.
How to do it: 
Location: Redwoods Treewalk, 1 Long Mile Road, Tītokorangi Drive access off Tarawera Road, Whakarewarewa, Rotorua 3010
Cost: Adult from $21, Child (5- 15 years) $17. 
6. Go Mountain Biking in the Redwoods
Rotorua is well known for its mountain biking scene at the Redwood Forest, as one of the oldest mountain bike networks in New Zealand. Mountain biking, therefore, ranks high on the list of things to do in Rotorua. There is approximately 150km of continually evolving trails to choose from. Whether you are a beginner or advanced, there's plenty to keep you entertained for days. The tracks are set amongst native New Zealand forests and pine trees with some great vantage points with views of Lake Rotorua, Tikitapu (Blue lake), and Rotokakahi (Green lake).
I am most definitely a beginner on a mountain bike, but this was still a lot of fun. Unlike many other mountain bike trails in New Zealand, the volcanic pumice on many of the trails here means that most trails stay relatively dry, allowing for all-year-round biking.
How to do it:
Location: Whakarewarewa Mountain Bike Park, 33 Waipa State Mill Road, Whakarewarewa, Rotorua 3073
Cost: Free
Trail map here. 
7. Try Zip Lining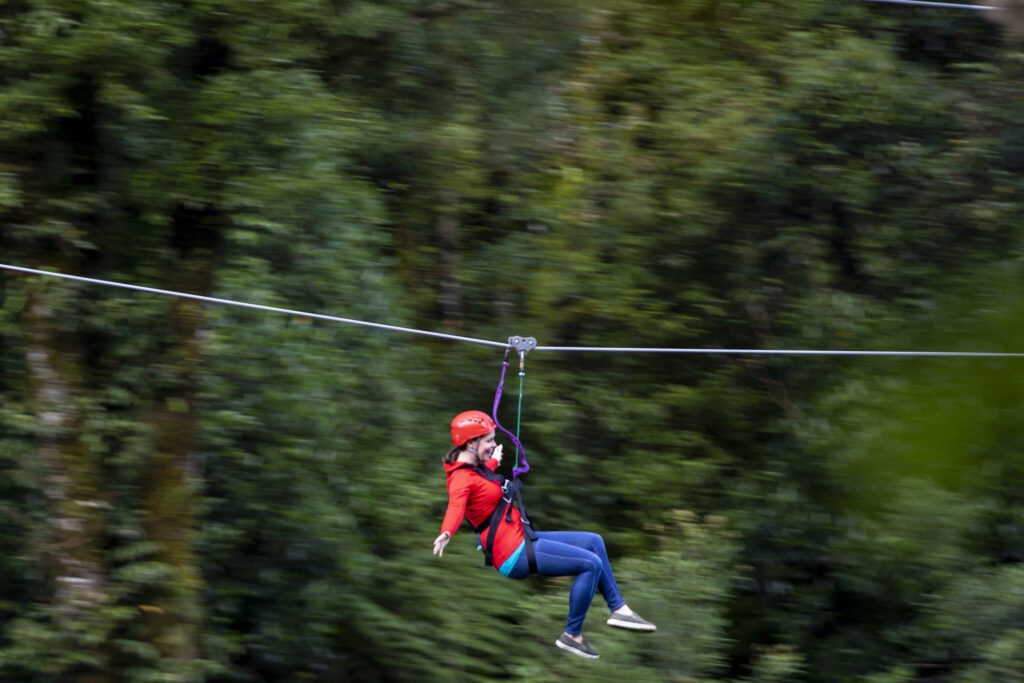 If an adrenaline rush is what you're after, then Zip Lining with Canopy Tours will hit the spot. This experience is not a single zip line but a guided 3 hr adventure across six zip lines (total 600m) and two swing bridges through ancient native New Zealand forest. It is rated as the #1 Nature activity in the world.
Once you're strapped into your harness get ready to fly your way through the skies and NZ native bush, experiencing Rotorua from the top of this beautiful forest canopy. It will get the blood pumping as you race at speed along the suspended wires, with the wind rushing past your face. It's a feeling hard to beat!
As part of the tour, your guide will also show you unique wildlife, flora, and fauna along the way adding an extra element of interest to the journey.
How to do it:
Location: Rotorua Canopy Tours, 147 Fairy Springs Road, Fairy Springs, Rotorua 3015
Cost: Adult $169, Child $139 (6 – 15 years). 
8. E-Bike through hot springs and bubbling mud
Want to explore a geothermal wonderland in style? Then try e-biking through the Whakarewarewa geothermal trails. Enjoy the trails that meander past colourful steaming lakes, boiling hot pools, geysers, bubbling mud, and native New Zealand forests. You can stop as you please to take photos and soak in the scenery.
How to do it: 
Location: Whakarewarewa – The Living Maori Village, 17 Tryon Street, Whakarewarewa, Rotorua 3010
Cost: 2 hrs from $49 
9. Hold a bird of prey
Does holding a bird of prey sound like something for you? If so, then head along to the Wingspan Bird of Prey National Centre where you can learn all about the New Zealand Falcon (Karearea), a species rarer than the Kiwi and found nowhere else in the world. You'll get to watch demonstrations of ancient and modern techniques to train and rehabilitate these birds, as well as the opportunity to hold one of the beautiful birds yourself.
Flight of the Falcon sessions are held on Thursdays – Sundays at 11:30 am.
How to do it: 
Location: Wingspan National Bird of Prey Centre, 1334 Paradise Valley Road, Ngongotahā, Ngongotahā Valley 3072
Cost: Adult $30, Child $15 (5 – 15 years). 
10. Velocity valley
If you're looking for a one-stop shop for adrenalin-packed things to do in Rotorua then look no further than Velocity Valley. This adventure park is Rotorua's home of speed and adrenaline and the only place where you can try all of New Zealand's favourite adventure activities in one spot, including:
Swoop – Suspended from the height of an 11-storey building (40 metres) and strapped into a body bag, your fate is in your hands – release the cord to face your biggest fears and swoop from 0 to 130kmph in 1 second
Agrojet – Jump in a jet boat and be exhilarated as you fly 100kmph on wild, swift waters with high-speed twists and 360 turns.
Free fall extreme – Enjoy the experience of skydiving without having to get in a plane. The oversized blow dryer lets you take on zero gravity at full force with no strings attached.
Schweeb Racer – A human-powered monorail race track. Feel the exhilaration through high-speed acceleration fuelled by your own adrenaline and pedal power.
Rotorua Bungy – Leap the 43m high platform and feel the exhilaration of freefalling at 60kmph head first. 
Freestyle airbag – Have a go at riding a bike down one of the three ramps (beginner, intermediate or advanced ramps) and trying your tricks risk-free in the air before landing softly in this giant airbag. 
How to do it: 
Location: Velocity Valley, 1335 Paradise Valley Road, Ngongotahā, Rotorua 3040
Cost: Activities from $35
11. Have a Picnic at Lake Tikitapu (Blue Lake)
Lake Tikitapu, also known as the Blue Lake for its stunning blue colour, is a cute small lake not far from Rotorua. Surrounded by mountains that are covered in native New Zealand bush it has a beautiful outlook and is a stunning spot to head for a picnic. Find a spot at one of the picnic tables or take a picnic blanket and go down to the lake's edge for lunch while you enjoy the views of the lake. If you're feeling active, you could also do the Lake Tikitapu nature walk which is a short walk through a beautiful native bush with birds. 
How to do it: 
Location: Lake Tikitapu, (Blue Lake) Rotorua, 3076, New Zealand
Cost: Free
12. Take a walk on a volcano at Mt Tarawera
The Mt Tarawera Crater walk is another one of the awesome things to do in Rotorua. In 1886 Mt Tarawera's summit split open in a violent eruption, covering the Pink and Whites terraces (once known as the eighth wonder of the world). Now you can take a guided tour in this sacred Maori land to experience the unique landscape and history of Mt Tarawera. As part of the walk, you'll get to see the volcano crater, enjoy scenic vistas, and 360 panoramic views of the surrounding mountains and lakes.
How to do it: 
Location: Kaitiaki Adventures, 1135 Te Ngae Rd, Tikitere 3074, New Zealand
Cost: From $99 per person. 
13. Kaituna River rafting
Imagine the adrenaline rush you'll get from riding down a 7-meter waterfall and wild rapids in a rubber boat. Well, that's exactly what it's like to river raft the Kaituna river.
You'll be kitted up with a wetsuit, lifejacket, and helmet before being briefed and jumping into your raft with your guide and boat partners. Enjoy the ride as you navigate down fourteen epic rapids and the world's highest rafted waterfall. The adventure is so much fun and you'll be grinning ear to ear the whole time.
How to do it: 
Location: Kaituna Cascades Rafting, 18 Okere Falls Road, Okere Falls 3074, Rotorua, New Zealand
Cost: From $60. 
14. Go on a 4WD adventure
Want to explore Rotorua off the beaten track? There's no better way to do it than by 4wd. Roam the Rotorua forests and the surrounding regions to see the remarkable natural landscapes.
Take a guided tour with a fully equipped 4WD off-road vehicle that you get to drive. Traverse adrenaline-pumping steep climbs and descents, slide through slippery mud pits, and navigate a creek via a narrow pole bridge. This is an adventure you won't forget, full of excitement, challenges, and surprises.
How to do it: 
Location: OffroadNZ, 193 Amoore Road, RD2, Rotorua 3072 New Zealand
Cost: Adult $110, Child $40. 
15. Have a mud bath at Hells Gate
Rotorua is a geothermal wonderland and one of the must things to do in Rotorua is experience the thermal hot water and bubbling mud pools. If you want to experience both of these things at once then the Hells Gate Mud Baths are for you and a truly unique Rotorua experience. The geothermal and sulphur mineral water have been used by the local Maori for over 800 years to cleanse and heal their bodies. Have fun while you later yourself up with this unique mud, let the minerals soak in before you exfoliate and cleanse yourself in the sulphur water spa. This soothing experience will leave you feeling nourished and rejuvenated.
How to do it: 
Location: Hells Gate, State Highway 30, Tikitere, Rotorua 3010, New Zealand
Cost: Adult $79, Child (5 – 15 years) $39.50. 
---
How to get to Rotorua
By Bus
You can get to Rotorua via bus from most major nearby towns including Auckland, Hamilton, Taupo and Tauranga. The best option is Intercity, which is the main bus trip provider in New Zealand. 
By Car
Exploring Rotorua by car is a great option as it allows you to explore the city at your own pace and travel to places that the buses do not necessarily go. If you need to rent a car, there are a few good options.
Jucy Rentals – budget car options + small campervans.
Snap Rentals – available in Auckland, Christchurch, and Queenstown.
Ace Rentals – available in Auckland, Wellington, Picton, Christchurch, Greymouth, and Dunedin. 
Drive times to Rotorua:
Auckland to Rotorua: 3 hrs
Hamilton to Rotorua: 1.5 hrs
Tauranga to Rotorua: 1 hr
Wellington to Rotorua: 5 hrs 25 mins
Where to stay in Rotorua
Budget Option (less than $100/night):
Rock Solid Backpackers Rotorua
Location: Central Rotorua
Rock Solid Backpackers in Rotorua is located in the heart of the city. This accommodation offers a range of dormitory rooms, as well as private rooms for those who like their own space. All rooms include bed linen. If you're looking for some fun, this accommodation is located directly opposite a rock climbing wall, or for something a little more relaxed take a walk to the weekly night markets.
Mid-range couples/families accommodation ($100 – $250/night):
Location: Glenholme, Rotorua
Wylie Court Motor Lodge is set in stunning park-like surroundings located a 10 min walk from the town centre and 1km from Wharewaka Thermal Village. There is a range of accommodation options from twin rooms to executive family apartments. Enjoy the private thermal pools most rooms have to offer or the large onsite thermal swimming pool. 
Luxury Accommodation ($300+/night):
Black Swan Lakeside Boutique Hotel
Location: Kawha Point, Rotorua
For 5-star accommodation in Rotorua, book a stay at the Black Swan Lakeside Boutique Hotel. This glorious accommodation is set on 1 acre of manicured gardens beside Lake Rotorua. Guests can enjoy the use of the private jetty, swimming pool, croquet lawn, and petanque course.
Guest suites and private residences offer superior bliss, appointed to the standard you would expect from a 5-star hotel – with views to die for (across the lake or rose garden), premium white linens, deep baths, and a fireplace in each room. 
Are you planning a trip throughout New Zealand?
Check out some of our favoUrite articles below.